A colourful new initiative is bringing Kingswood to life with a collection of glazed ceramic birds and footpath markings to brighten up the community this winter.
Wainwright Park's fortnightly pop-up Village Café, in partnership with local artists, has created a beautiful space, which features glazed ceramic birds in the trees.
Brightly coloured birds have also been spray painted on the surrounding footpaths, which lead to local landmarks.
Village Café Kingswood is an event that provides a friendly, inviting space for local residents to visit, meet and talk with each other and the wellbeing support team led by Penrith City Council.
A Council spokesperson said the project was a great way for the community to come together and spread creativity.
"The 'A little bird told me' project was created to provide Village Cafe Kingswood participants with opportunities for creatively sharing and exploring their experiences and local knowledge," the spokesperson said.
"As an arts project, it sits strongly within the wellbeing framework of the Village Café model by providing residents with captivating, artistic activities and shared, positive experiences while also encouraging people to consider their strengths and wisdom."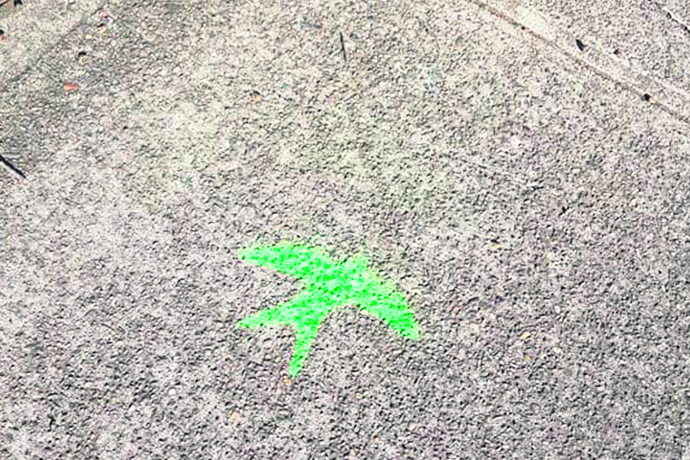 The walking trails were suggested by local residents during the project and they have been marked out using bird stencils along popular routes within Kingswood.
Different colours denote different destinations, for example the orange birds lead to the railway station, red birds to Nepean Hospital and blue birds to Kingswood Public School.
"Marking the trails was a clear way of sharing local knowledge, especially in a neighbourhood where walking is a common activity amongst the many different groups within the community," the spokesperson said.
As public art, the ceramic birds installed in the trees have an expected lifespan of one to five years. The bird trails should last into summer but will fade over time through exposure to the elements.
The spokesperson said the response from the community has been overwhelmingly positive with the birds attracting attention on social media. The next pop-up will be on Thursday, June 27 at Wainwright Park.
A graduate of Western Sydney University, Nicola Barton is a news journalist with the Western Weekender, primarily covering crime and politics.