A Jamisontown tattoo parlour is taking Penrith City Council to court over what its owners claim is unfair treatment regarding its operating conditions.
The owners of Crossbones Gallery, which is located on York Road, say their business is at risk and are taking the matter to the Land and Environment Court in July.
Co-owners Brenton Eldridge and Michael Vincent say they have been battling for three years to comply with the Development Application, which they claim keeps getting rejected and changed.
"Whatever issue we solve it is something else, like parking shortfalls are a problem but how can that be when I've engaged a professional traffic consultant and engineer to do a survey and they say it's not a problem?" Mr Eldridge said.
"They are doing anything possible to crush and hinder us. My main issue is the reasons they seem to give only seem to apply to us but not the other businesses in the same zoning."
The gallery has had 20 conditions placed on it, which Mr Eldridge believes will affect its trading. With legal fees, the cost of staying in business is growing.
"In legal fees and surveyors, reports and studies we have spent anywhere from $50,000 to $60,000 let alone loss of trade that comes with the conditions," Mr Eldridge said.
"We are only allowed to have two staff members in the business and tattooing can only be conducted from 5pm-10pm, so if a mum with school kids wants a tattoo in the day I can't do it and if I wanted to hold an art gallery event in the evening I can't because I'm only allowed to tattoo at that time," he said.
The Weekender contacted Council for comment but they could not provide any information relating to the issue due to the current legal process.
Mr Eldridge said Crossbones Gallery has done everything possible to ensure it runs as a safe and compliant business and is dumbfounded by Council's actions.
"All my staff are background checked, finger printed and palm checked, certified to be fit and proper people, then you have Council coming in saying it's not in the public's best interest for you to be there, it just doesn't make sense," he said.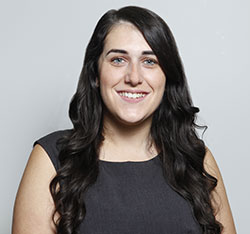 A graduate of Western Sydney University, Emily covers Local, State and Federal politics for the Weekender, as well as crime and general news.