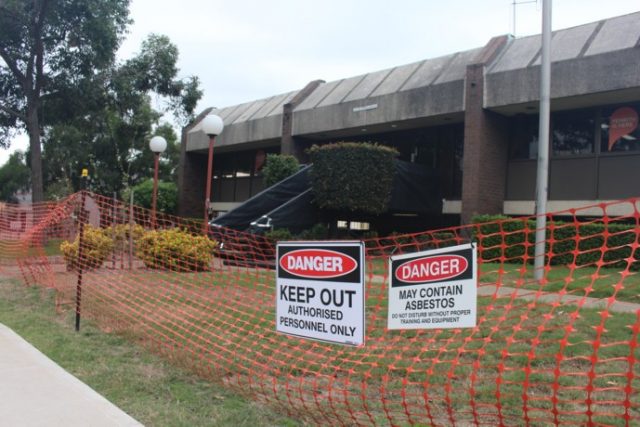 Representatives from Penrith City Council are in clean-up mode after asbestos was found at their Works Depot on Copeland Street.
Experts wearing special suits were on site this morning, covering the contaminated area. A large orange safety fence and signage has been put up for the safety of workers, school kids and the broader community.
Council said the asbestos was discovered during a "routine asbestos management assessment" which uncovered fragments near the stairs at the Kingswood depot administration building.
Once the fragments were discovered controls were put in place to make the site safe with fencing erected to create an exclusion zone.
A spokesperson from Penrith Council said the routine contamination clean-up is well underway.
"Investigations reveal the paint on the stairs contains asbestos, these have been covered and secured by plastic sheeting while further testing and remediation work is conducted," the spokesperson said.
"The fragment material has been removed by a Class A licensed asbestos contractor who has also conducted extensive air and surface sample testing both inside and outside the building."
The spokesperson said asbestos is not uncommon in the Penrith area due to the common use of the material in the mid 1980's.
"Council takes every asbestos incident seriously as the safety of our workers and the community is our number one priority," the spokesperson said.
Remediation work to replace the stairs will be carried out in the coming weeks.
A graduate of Western Sydney University, Nicola Barton is a news journalist with the Western Weekender, primarily covering crime and politics.