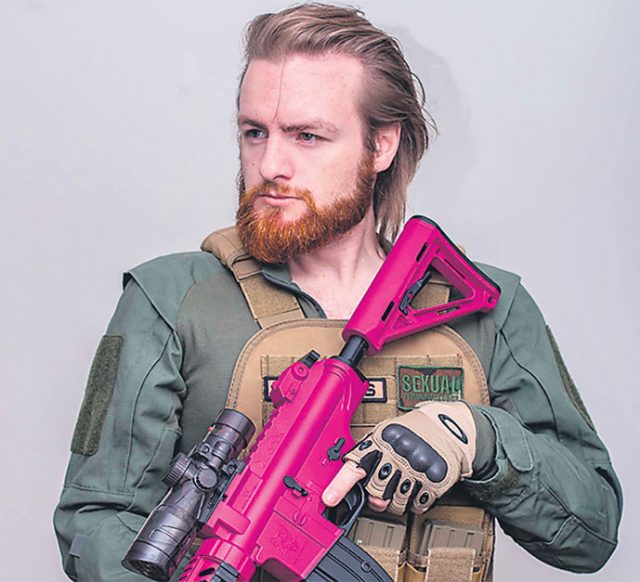 He's the owner of a toy gun empire but Penrith resident Brad Towner is now facing jail time after being charged with several firearms offences.
When working on his costume for a Cosplay convention in 2010, Mr Towner noticed a gap in the market for fake firearms.
What then started as a small light bulb idea soon unravelled into a successful internationally acclaimed business.
But now, after seven years of trade, he is facing off with about 20 potential years of imprisonment for dealing what is considered illegal contraband – gel guns.
"I've been investigated three times prior to make sure that my products were indeed toys and that I wasn't some sort of illegal firearm dealer and every time they came in I was cleared, it's just complete revenue raising," Mr Towner said.
Mr Towner is being charged with 'possession of three or more firearms'; 'possess unauthorised firearm'; 'possess ammunition without holding a license, permit or authority'; 'possess or use a prohibited weapon without a permit'; and 'carry on activities of firearm dealer without being licensed'.
As a result, he was forced to refund $40,000 worth of stock including postage and had $30,000 to $50,000 worth of stock seized by authorities.
Mr Towner said this cost him both his assets and even a marriage, forcing him to move to Queensland to restart his business and regain his livelihood.
"It's like banning deodorant cans because someone can light a lighter and turn it into a flamethrower, or banning kitchen knives," Mr Towner said.
"Gel balls or 'ammunition' are used in gardening for water absorption, you can buy them from Bunnings, hell they are even used to decorate vases, does that mean people all over the country have dangerous ammunition in their homes?"
As it stands, the law in New South Wales states that gel blasters are classified as an airgun or firearm and that gel balls are classified as ammunition.
In Queensland, there is no such law around gel blasters or gel balls.
"Gel blasters that substantially duplicate in appearance a military style firearm are classified as a prohibited firearm. Please be advised that it is an offence to possess or use a firearm, pistol or prohibited firearm unless the person holds the relevant licence or permit," a NSW Police spokesperson said.
Even though paintball was deregulated last year, it is reported that the two sports share great similarities.
This month Mr Towner will face Penrith Local Court for an arraignment where he plans to plead not guilty to the charges, despite being offered a plea deal which would guarantee no jail time.
A graduate of Western Sydney University, Nicola Barton is a news journalist with the Western Weekender, primarily covering crime and politics.