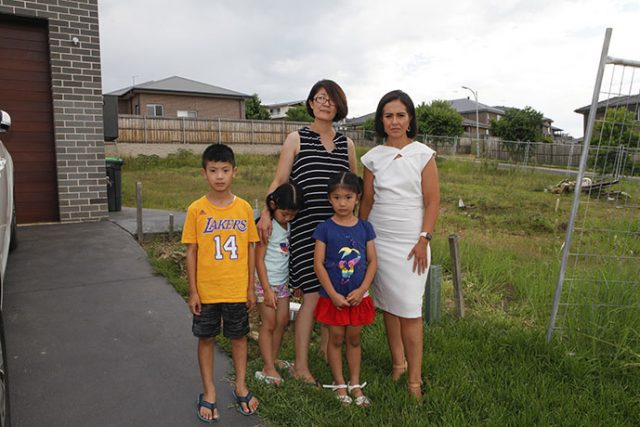 Concerned Caddens residents fear that a proposed childcare centre will cause great implications for their community.
A development application has been lodged with Penrith Council, with plans for a two storey childcare centre on the 569.50sqm corner site of 70 Cadda Ridge Drive.
As it stands, the street is currently used as the main thoroughfare for the area following the closure of Caddens Road several years ago, itself a controversial move.
40-year-old resident, Shoko Hazama, who lives next door to the site, said she's concerned for the community's safety if the project goes ahead.
"We pointed out in letters of objection about the noise levels, accessibility, safety issues and traffic, we just think that the design itself isn't going to be safe for the people using the facility and the community around it," she said.
"It's not just us, it's going to be a struggle for a lot of residents having a busy building like that with 45 kids and a lot of parents coming in and out, it's just not safe where it's located."
Ms Hazama and her family have met with several members of the community, who too are opposed to the proposal.
"We have kids of our own and we know of course they are going to be noisy, we're surrounded by other young families with the same, but our kids will grow up and we'll still have to live with this noise forever," she said.
"We will also lose street parking as it will become a no standing zone and just add traffic on top of what we already have."
Londonderry MP Prue Car said the issue was brought to her attention by several residents with similar concerns.
"When I was knocking on doors up and down this street, everyone was raising the issue of this road with me, my concern would be that we've already got speeding issues on Cadda Ridge Drive, there's been accidents already," she said.
"The issue is you have the busy road but school zone laws don't apply because that's only for schools.
"A childcare centre is inappropriate in that context and it is just going to be washed in on an area that can't take it."
Ms Car is urging locals to ensure their voices are heard by submitting letters of objection to Council.
A graduate of Western Sydney University, Nicola Barton is a news journalist with the Western Weekender, primarily covering crime and politics.