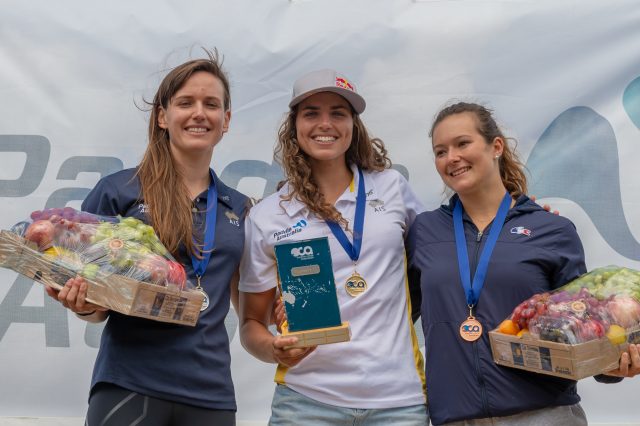 The Sydney International Whitewater Festival – Oceania Open Championships wrapped up at Penrith Whitewater Festival today with Australia's greatest individual slalom paddler of all time, Jessica Fox, taking home the win in the women's C1.
Fellow Australian Rosalyn Lawrence (NSW) joined her on the podium in second. Australians Tim Anderson (NSW) and Lucien Delfour (NSW) finished seventh and eighth respectively in the men's K1 final.
The gold medal and Oceania Champion title continues Fox's unbeaten run in the boat class she won five World Cups, the overall World Cup as well as World Championships gold in last year.
The world number one paddler showed her class finishing the challenging course and conditions in a time of 121.71 seconds and +6.48 seconds ahead of second placed team mate Ros Lawrence with both paddlers recording four seconds penalties. France's 2018 World Championships team bronze medallist and former gold medallist at the Junior World Championships in Penrith in 2014, Lucie Prioux, finished third (+11.93).
"That was closer to a bang than yesterday. I'm quite pleased with that, to finish off with a win obviously is always awesome," Fox said in reference to yesterday's women's K1 final that saw her drop from a winning time into eighth place following 50 seconds penalty after missing a gate and finishing +47.43 behind winner and World #2 Ricarda Funk (GER).
"I'm happy but it was really hard. That course was long, it was windy, it was really physical and I had to really dig deep because I felt quite flat before starting. There were a couple of mistakes, I had two touches on the top and it definitely wasn't perfect. I was a little bit surprised to see the number one next to my name, because obviously a few mistakes can cost you a lot, so I gave it everything out there," Fox said about her run in the C1 today.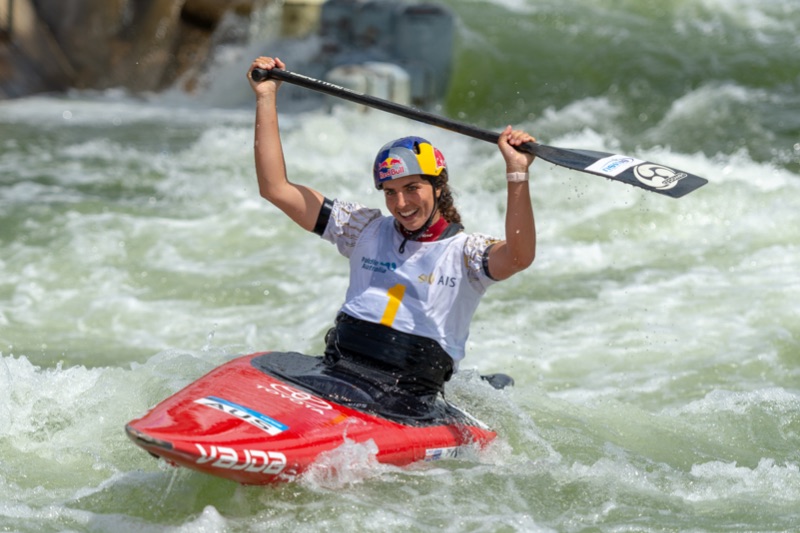 The gold medal wrapped up a successful two-weekend 2019 Sydney International Whitewater Festival for Fox, who also won the women's C1 at last weekend's Australian Open. Adding another silver medal to her medal tally from last weekend's women's K1, the world-class Whitewater event made for a successful return to international competition following Fox's historic season last year when she wrote canoeing history and became the most successful individual canoe slalom paddler of all time.
"It's always nice to start the year on our home course and to have some good results here with all of the internationals that are out, it's always great, because it's like a world cup competition. Everyone's out here always giving their best," Fox added about the world class field contesting the event.
"I'm really motivated after these races to work on the things I need to improve on and analyse the runs and see where we need to improve and do better next time. We've got a couple of months before the world cup series will start in Europe so looking to get some good training in."
Fellow Australian and former C1 World Champion Ros Lawrence added a silver medal to Australia's medal tally, a result she was thrilled about.
"My feelings are all over the place and I'm happy to finish on a high. There were three people up after me so I knew I was with a good medal chance when I went into first crossing the finish line," Lawrence said, after posting the fastest time when she was the seventh paddler coming down the course, but was overtaken by Fox, who started last in the final following her semi-final win.
"It's always exciting to watch the other girls and see where they end up. It is a tough course out there, we had eight ups, lots of tricky moves set by the course designers, so it was pretty exciting," Lawrence added.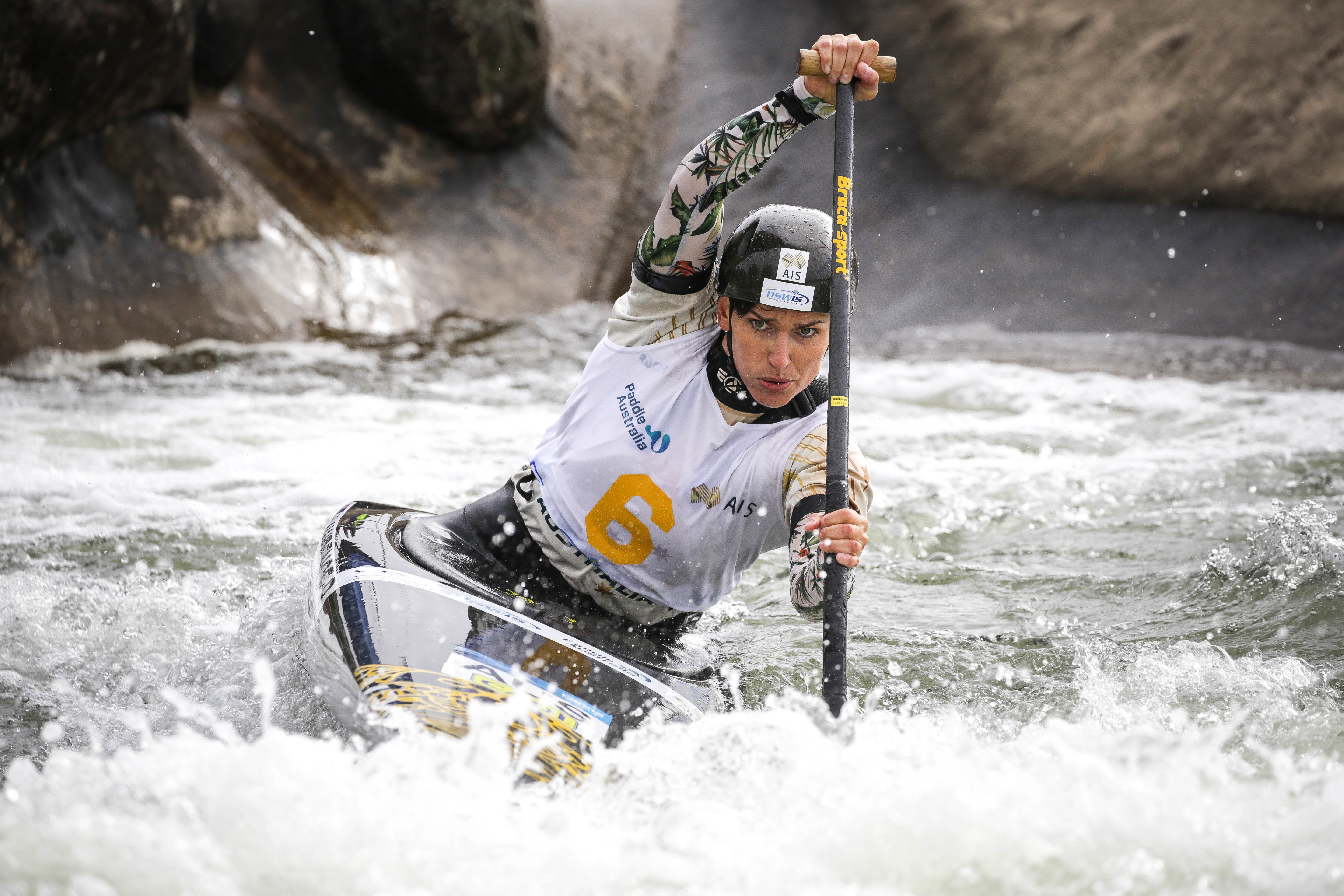 U23 paddlers Kate Eckhardt (TAS) and Noemie Fox (NSW), who won a bronze medal at last weekend's Australian Open, missed out of the women's C1 final after finishing 12th and 27th respectively in the semi-final.
"I'm pretty disappointed. I haven't paddled the way that I wanted to, lots of mistakes that I'm really disappointed in having made. It's been a tough couple of weekends, I've had maybe one run that I was really happy with out of all of the races. So, this is not the greatest finish for me," a disappointed Kate Eckhardt said after just missing the final in 12th.
"Really looking to go back and reflect on my performance over these couple of weekends and see what I can get out of that and move on and come back fresh for the next races. Selection is yet to be confirmed, but I'll still be travelling overseas this year racing the Under 23 world championships and we'll see if I get the chance to do any other races," Eckhardt added about the selection relevance of the events with teams to be announced later next week.
The men's K1 was won by American Michal Smolen in 99.35 seconds and +0.61 seconds ahead of Jakub Grigar (SVK) in second. Boris Neveu (FRA) finished third (+1.33).
Tim Anderson and Rio Olympian and 2018 World Championships silver medallist Lucien Delfour were the two Australians who made the top-ten final in a world-class and challenging semi-final earlier in the day that saw 16 out of 40 paddlers missing gates, including current World Champion Hannes Aigner (GER) and World #1 Vit Prindis (CZE).
"I think it was a little trickier than yesterday and the day before, but I think it was an exciting course. I've raced here many times in the last ten years and this was one of my favourite races here," winner Michal Smolen said.
"I knew that I had a really solid run and I knew also that anyone could challenge that because in there were a lot of fast guys in the top ten. I was just happy with my run and wasn't too worried about the result in the end, but I was really happy that I was able to remain on the top. This is a really good start to the season for me and it means that I'm able to focus in the race and I'm just excited and looking forward to race in the world cups this summer."
24-year old Tim Anderson finished seventh in a clean run and +4.34 behind the winner. After last weekend's silver medal, Lucien Delfour finished eighth this weekend after two penalties in the final.
"I'm really happy with the day's racing. I put down a pretty solid run in the semi-final and was lucky enough to scrape into the final with a massively stacked field. There were five guys who could easily be world champions, probably they might even be. It was really good to be in the final and then I just went as hard as I could with nothing to lose really. It turned out ok, the top was good, I just ran out of steam at the bottom. This got me really motivated for racing this year in Europe," an excited Tim Anderson said about his run and racing a world-class field.
Tasmanian Dan Watkins was the third Australian to make it through to today's semi-final, but a challenging run with eight seconds penalties saw him miss out of the final in 20th.
"It's been a really busy two weeks. I had some pretty good racing last weekend, some good quals this weekend, probably not the best results overall but it's been really good, really eventful, selections have come right down to the last race for almost every class I think and it's been really busy racing back to back," Watkins reflected on the two weekends of racing.
"I think everyone's really come on in selection, there's a good five or six people in each class who are really pushing. Especially this weekend, last weekend there was no clear leaders really and then this weekend the conditions worsened a little bit for racing and it's been really eventful and everyone has been really close."
2019 Canoe Slalom National Team selections across Senior, U23 and Junior classes are expected to be announced at the end of next week.