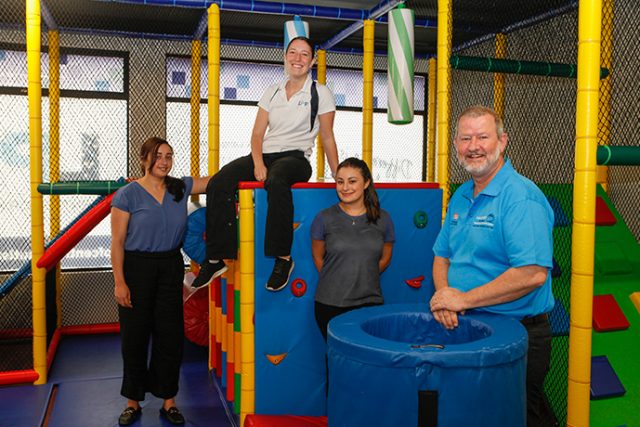 There's no doubt that as the National Disability Insurance Scheme (NDIS) rolls out across the country, the access to disability support is expanding.
But with every success there are downfalls, as the scheme begins to spread itself thin leaving areas like Penrith with severe staff shortages.
Local NDIS provider, the Luke Priddis Foundation (LPF), has paved the way for support services in the community. But as their waiting list grows, the desperate need for more clinicians is beginning to weigh down on the facility.
LPF General Manager, John Thain, said the centre desperately needs an occupational therapist or psychologist.
"It's incredibly difficult to attract or get people for providers for the NDIS in Penrith and western Sydney, there's just not enough to go around," he said.
"Some of it is the distance, they just don't want to come out west and with others there's not enough to go around.
"I think the NDIS has been incredibly successful, sure there's hiccups but you're going to have that with a scheme on a national level, it's going to take time to even out."
For occupational therapists in particular, there are a lot of different job paths on the horizon. Aged care, hospitals, rehab, and work-related rehab are some of the most common paths that new graduates choose to take.
Mr Thain said universities need to equip and direct students into child disability work as he fears the problem will only worsen as the NDIS continues to grow.
"I've been trying to get a psychologist for the last couple of months, advertising on Facebook, Linkedin, professional magazines but it's just really difficult," he said.
Mr Thain said the problem will only grow as the NDIS roll-out continues and the population in areas such as Penrith continues to grow.
"So many more people have access to therapies and early intervention work, which has been really successful and great but we just haven't got the people at the moment to cater for all of it," he said.
"Our population is ageing, so aged care is growing meaning we're only going to need more, it's a skill shortage and we're just really wanting to bring attention to that."
Mr Thain believes the NDIS along with the State and Federal Government need to consider allied health and the ways this could be used to ensure that these shortages are controlled in the future.
A graduate of Western Sydney University, Nicola Barton is a news journalist with the Western Weekender, primarily covering crime and politics.