For most children, the lead up to Christmas is full of excitement, anticipation and most importantly, a visit to Santa.
But while some line up for hours eagerly waiting with their wishlist, others are stuck in hospital, too sick to make it out for the festive celebrations.
Local Santa legend George Asciak paid a special surprise visit to the Nepean Hospital Children's Ward on Monday, to get photos with the children who may not otherwise be able to do so.
The children's faces lit up as Santa went door to door, delivering a Christmas bear and treats to each bed.
"I just want to share the spirit of Christmas at the hospital, you see so many sick children in there, it's not a very nice place to be at this time of the year," Mr Asciak said.
"I've got a real soft spot for these poor kids who won't make it out for Christmas, so I just really want to cheer them up and get them excited."
The ward sees both medical and surgical patients from 48-hours-old to 16-years. It is predicted up to 12 children will be in the ward on Christmas Day.
Acting Children's Ward NUM, Kylie Harris, said the visit from Santa was a great way to get the kids excited for Christmas.
"We try to make Christmas Day as fun as possible, Santa comes at night and leaves lots of presents for the kids, obviously it's a bit tough being here for them, but lots of people in the community tend to pop by and Santa visits, so it makes it a bit easier for the kids," she said.
"I hope the visit from Santa just makes them happy and allows them to forget why they are here and just distract them from an otherwise not so pleasant day for them."
Christmas music, movies and toys will fill the day for those who are unable to leave, in the hope to bring as much joy to the kids as possible.
"If they are in for a long time we do try and let them out for a little bit of the day if it's possible, to have lunch with their families," Ms Harris said.
"We try to do as much as we can, but sometimes they are too sick and have to stay in bed."
Ms Harris thanked the community for the continued generosity in donating toys for the children during Christmas time.
"I think it's nice to know that people remember they're here and care about them," she said.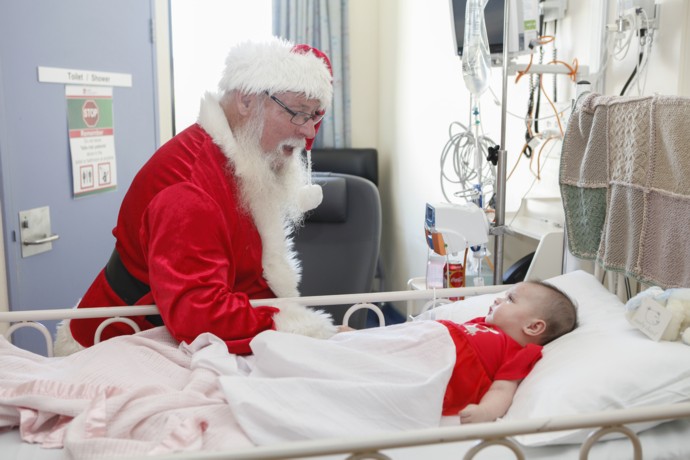 A graduate of Western Sydney University, Nicola Barton is a news journalist with the Western Weekender, primarily covering crime and politics.