Prepare yourself for a night of art, intrigue and eye-catching canapes when 'Yellow Yellow Sometimes Blue' rolls into town.
Inspired by the history of Penrith Regional Gallery and The Lewers Bequest, the one-hour show looks through the eyes of 'the help,' to serve up an original take on mid-century Emu Plains.
The play tells the story of Iris and Leo, two outsiders peering into a world of power, money and gossip as they prepare outlandish canapes and cocktails for a promiscuous gathering of Sydney's social elites.
Set in autumn 1954 in a house beside the Nepean River, audiences will see Iris and Leo preparing fresh food for the upper-class guests, and mixing stories, politics and drinks for a wild night of modernist misbehaviour.
Written by Noëlle Janaczewska, the play goes back to the roots of Sydney's early Modernist thinking.
'Yellow Yellow Sometimes Blue' will be showing from November 15 to 24 at The Joan. Tickets start at $18. For more information or to book, call 4723 7611 or visit www.thejoan.com.au.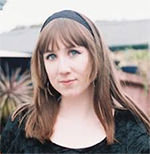 Chloe Kay Richardson is The Western Weekender's entertainment reporter. She has worked extensively at various publications across Australia.