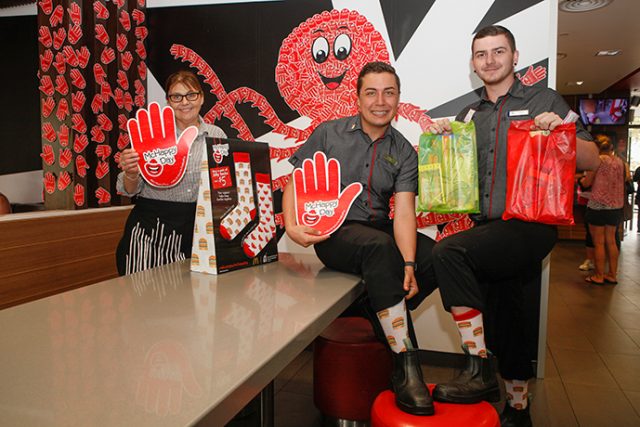 Ronald McDonald House Charities (RMHC) is calling on Penrith to help put a smile on the faces of seriously ill children with the return of McHappy Day later this month.
As the largest fundraiser for RMHC Australia nationally, McHappy Day is crucial in raising funds for the charity, which helps keep families together while their child undergoes hospital treatment.
McDonald's Glenmore Park, Penrith, Penrith Leagues, Penrith Plaza, St Marys Village and Werrington licensee, Ian Garton, said this year's events will be bigger and better than ever.
"It's fantastic to see how Penrith gets behind McHappy Day each year in supporting the Ronald McDonald House, it really hits close to home having the Nepean Family Room at Nepean Hospital," he said.
"We're hoping that this will not only provide a fun day out for the family, but to really bring about awareness of what the Ronald McDonald House does and what they provide."
This year's events will see a variety of activities and performance as well as visits from some very special guests.
From market stalls, face painting and craft, to in-restaurant guessing competitions and showbags, McHappy Day has something for everyone.
"Our Glenmore Park restaurant will have special guests, including Orpheus Pledger who plays Mason in 'Home and Away' as well as James Tamou from the Penrith Panthers," Mr Garton said.
"At Panthers we'll have footy legend Greg Alexander and a number of local politicians on board."
CEO of RMHC, Barbara Ryan, said it's the generosity and support of Aussies that makes a world of difference for struggling families.
"McHappy Day is a great community day, and I'd encourage Penrith residents to get involved by heading into their local Penrith McDonald's restaurant on Saturday, November 17. This is our biggest fundraising day of the year and truly helps make a difference for families in their time of need," she said.
To date, McHappy Day has raised more than $42 million for RMHC nationally, with the hopes to raise $3.6 million this year.
Come down to your local McDonald's restaurant on Saturday, November 17 or visit www.rmhc.org.au/mchappyday for more information.
A graduate of Western Sydney University, Nicola Barton is a news journalist with the Western Weekender, primarily covering crime and politics.