Glenmore Park resident Doni Gales is spinning her way to success as the 23-year-old secures a gravity-defying Guinness World Record.
Completing the most front split spins in one minute, the indoor skydiver almost doubled the required amount with a record 55 rotations.
Thursday, November 8 marked the 14th annual Guinness World Record Day, in which she was chosen to represent Australia.
"Our Chief Instructor at the Penrith tunnel has one of the records for the most head down spins, he taught me so I thought that the fact that he had a record was awesome and it made me want to go for it," Ms Gales said.
"It was really exciting, it was pretty nerve-racking going into it because it's all eyes on you and I really wanted to give it my best shot and do well for the country."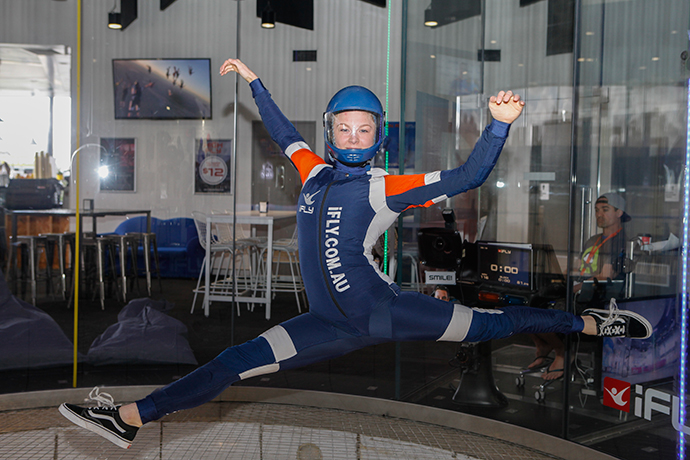 Working as an iFly instructor for only nine months, Ms Gales was first introduced to indoor skydiving when working as a dancer and aerial performer on Royal Caribbean Cruise Lines.
Dancing since she was just three-years-old, she said her background helped her to excel in the sport.
"I really like flying because there are so many different possibilities, having that dancing and gymnastic background, you can be really creative and experimental with how you use the wind and how that pushes your body around," she said.
"I really fell in love with it and just kept working on it, when I came home on vacation I would train in the Penrith tunnel and do as much time as possible, now as an instructor I just want to spread that love of flight."
Ms Gales has been working hard to master her craft and experimenting with different styles of flying. With the hope to expand on her skills and training, she is now looking to take things to the sky.
"I definitely want to go to that next level with outdoor skydiving, they have competitions out there. I'm mainly interested in freestyle, so I can still incorporate the dancing side of things," she said.
With her name now secured in the history books, Ms Gale said she is honoured to be a record holder and thanked her team at iFly Penrith for their support.
A graduate of Western Sydney University, Nicola Barton is a news journalist with the Western Weekender, primarily covering crime and politics.