A convicted child sex offender living in Penrith is back behind bars after he befriended his neighbour and her toddler, breaching an explicit order to stay away from minors.
Wayne Norman Baldwin, 72, was sentenced to a six-month fixed term last Thursday for failing to comply with his Extended Supervision Order (ESO).
Issued by the Supreme Court in 2016, his ESO prevents him from approaching or having contact with anyone under the age of 18, unless first approved by his supervising officer, along with other strict conditions such as ankle bracelet monitoring and reporting.
Penrith Local Court heard Baldwin became close with the mother after bumping into her while collecting the mail and taking out the garbage.
But it was not until he disclosed the relationship to his Departmental Supervising Officer (DSO) that the extent of his deception was revealed.
During a routine meeting on October 4, Baldwin told his DSO he had become friends with his neighbour, later adding that his neighbour had a 22-month-old child and the three of them had attended Penrith Westfield together the prior day.
Security footage obtained by police shows Baldwin walking with the pair, stopping at numerous stores before having a coffee together.
They are then viewed stopping near the toilets on the upper level, where the neighbour leaves the child in the stroller in the care of Baldwin while she enters the toilet.
Baldwin is seen pushing the stroller for a short time before the neighbour returns.
But rather than a one-off, further investigations revealed the 72-year-old had previously been in contact with the pair, and they would regularly walk to Westfield together.
During his sentencing last Thursday, his Legal Aid lawyer Kasey Pearce submitted his offending was towards the lower end of objective seriousness, saying the breach occurs in a public place and nothing "untoward" happened to the child.
However Magistrate Erin Kennedy refused to accept this, saying Baldwin was "well aware" of his non-association condition and labelled the offending a "blatant breach".
"You choose to do this. You're putting yourself back in prison – that's the reality," she told Baldwin, who she also noted had a "troubling" history of non-compliance.
Baldwin – who court documents reveal has an "extensive criminal history of committing offences against children" – was most recently incarcerated after he was charged in 2010 with offending against a "vulnerable" 14-year-old boy he had "groomed" by first offering him a lift home.
He is expected to appeal the decision at Penrith District Court on November 5.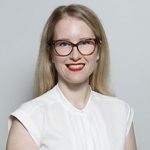 Alena Higgins is the Weekender's Senior News Reporter, primarily covering courts and Council issues.