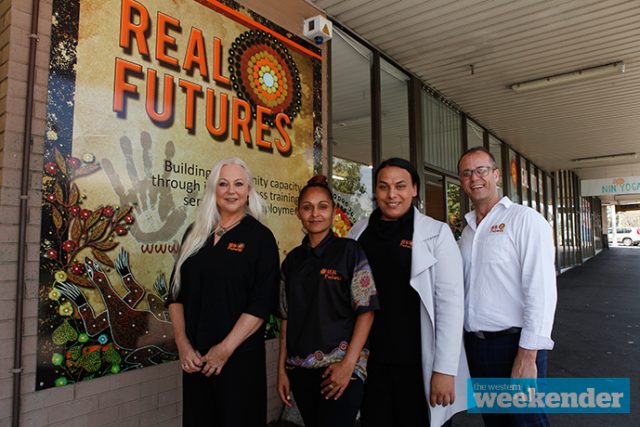 The future is looking bright for unemployed Indigenous people in the community following the launch of a new vocational training and employment centre (VTEC).
Now open in St Marys, the Real Futures centre is assisting individuals in reaching their goals by aligning them with the skills and accreditation they need to land their dream job.
CEO and Managing Director, Wendy Yarnold, said it's the first of its kind in western Sydney.
"The body of our company is about Aboriginal economic participation and helping Aboriginal people to be able to step outside of their social conditions," she said.
"We want them to walk away with an understanding of what the employers' expectations are, know what their dream is and enhance any skills with licenses, tickets and qualifications."
In 2016, 41,887 people identified as Indigenous, equating to 1.8 per cent of the greater western Sydney population, with Penrith obtaining the highest portion.
Ms Yarnold said they chose their new location not only because of the Indigenous population, but because it was close to upcoming opportunities.
"People are pouring through the doors, ever since we opened people are excited because they've never had anything like this here," she said.
"What sets us apart is that we are client central, so all of our activities work around our people, they feel comfortable, like they belong and that this is theirs."
All staff members at the St Marys centre are Aboriginal and offer cultural competency training to other workplaces.
"It allows the clients to feel connected, we're an Aboriginal company, so people can come in and feel comfortable and they are more likely to disclose some of the potential barriers and tell us what it is that they want rather than someone else telling them what to do," Ms Yarnold said.
The program runs for as long as it takes the individual to receive employment. Participants may also need to return clear drug and alcohol tests.
"It's about social freedom and not having to comply with the system and having someone looking over your shoulder who has the power to cut off your money, that's the motivation we work on and if we keep sharing these success stories then there's more people that want to come in and make themselves better," Ms Yarnold said.
A graduate of Western Sydney University, Nicola Barton is a news journalist with the Western Weekender, primarily covering crime and politics.