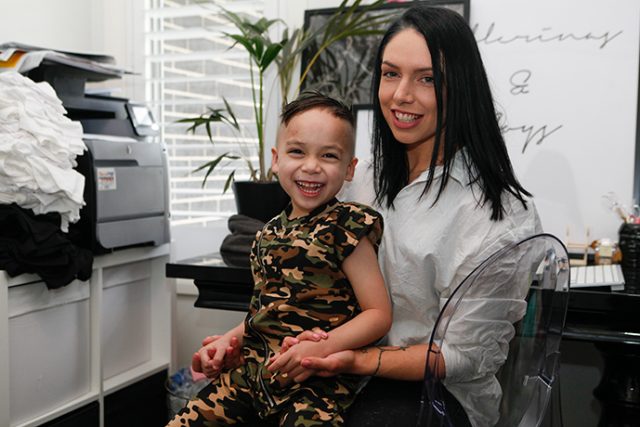 For many years women were faced with a difficult decision – career or kids? Londonderry resident, Grace Leong, is proving this is no longer the case, as the mother of three's online business reaps success.
Three years ago, when Ms Leong was on maternity leave, she was struggling to make ends meet.
With a passion for design and textiles, she took a leap of faith and started her own kids clothing brand, Ballerinas and Boys.
Now, the 32-year-old is dressing children all over the world with her adorable street style collection.
After a tricky start, Ms Leong found the confidence required for success.
"I had a lot of self doubt at first, but I wanted to find something that could not only keep me going financially but that could be something I have for myself while I was raising the kids," Ms Leong said.
"To bring some income into the household that works around the children is really convenient, when the kids are napping you can jump on and answer emails whilst still being there for the important things like school drop-offs and pick-ups."
Ballerinas and Boys features unisex hip hop, street style clothing for kids. From jeans and rompers to t-shirts and singlets, customers all over the world want to dress their kids in the trendy gear.
"It's so easy to get caught up in everything they need 24 hours a day, you kind of lose yourself and doing things that you love," Ms Leong said.
"To mums out there who are hesitant, I say just give it a go, you've got nothing to lose. I think the biggest thing is self doubt, worrying that you won't have the time or that your kids will need you too much but it's so important to set yourself goals after having kids."
Ms Leong reached out to other mums with similar businesses on Instagram, to organise a market event.
"Leading up to Christmas, I know first hand how hard it is to be able to afford everything when you're just starting up a new business, so it's for us all to come together, earn extra cash and give customers a chance to meet the faces behind these online businesses."
The 'Instagram Market' will be held on October 14 at the Five Dock Leisure Centre.
To view the collection visit, visit ballerinasandboys.com.
A graduate of Western Sydney University, Nicola Barton is a news journalist with the Western Weekender, primarily covering crime and politics.