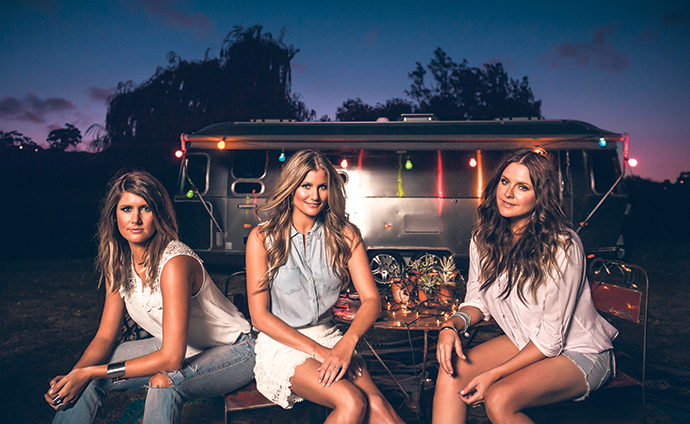 While most country songs might start with a few tears and beers, The McClymonts have proved time and time again that the winning recipe to a hit song is as simple as a good story and an uplifting beat.
The country music trio have been spinning their personal experiences into anthems for over 10 years, winning 13 Golden Guitar awards, two ARIA awards and millions of fans worldwide.
But their success, says Samantha McClymont, is not something they take for granted.
"It's not often that artists are five albums in and tour year in and year out, so we definitely don't take it for granted," she said.
"I think when it comes to being in a band we're lucky that we're siblings because I think you just have a special bond that is never going to go away."
Hitting the road again after taking a year off, the trio have had a busy time away from music with the birth of Sam's first baby Wilder, the birth of Mollie's second child Elky, and an album release for Brooke and her husband, Adam Eckersley.
"Motherhood is certainly a different world," Samantha laughed.
"I was kind of lucky that Brooke and Mollie had little ones of their own, so I knew what was going to be ahead with the juggling I would have to do with work and bub."
Now with a whole new book of material to draw from, Samantha said while their latest album, 'Endless', does explore a softer side to their voices, they were far from over exploring their signature upbeat sound.
"Our second single on 'Endless' was 'Don't Wish It All Away' and that was pretty much about our children growing up too fast, so I think that people can hear that come through our music," she said.
"We're definitely influenced by what we're going through because it is what a good country song is really, it's storytelling about what you're going through personally and you just hope that it's something the audience connects with as well.
"But we're also still about writing the uplifting, powerful songs as well because that is still what were about, so we're never going to divert too far away."
The McClymonts' latest album is available now on iTunes and through all good music retailers.
The McClymonts will be performing at the Evan Theatre at Penrith Panthers on Saturday, September 22 at 8pm. Tickets are $42.55. To book or for more information, call 1300 PANTHERS or visit penrith.panthers.com.au.
Lauren Suttie is the Weekender's General & Community News journalist.