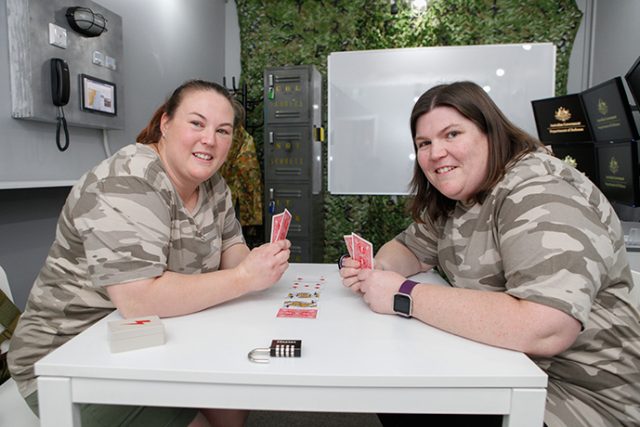 Whether it's flying high, throwing axes, cutting up the race track or making waves, there's no question that Penrith is the adventure capital of NSW.
And now to cement that title even further, Penrith is about to get its second escape room.
The brainchild of sisters-in-law, Kit O'Malley and Shelley Cootes, Narrow Escape Rooms is bringing together the two families' love for puzzles to create a challenging and fun day out for locals.
With an electronic trade and a background in working with arcade games, the two local mums never thought they'd find themselves operating their own giant puzzle room, but Ms Cootes said after their first escape room experience, they were hooked.
"After my second room and Kit's first, we just sat around for hours talking about how good it was and then we sort of talked about what our escape room would look like," she said.
"I didn't think too much more about it, other than how much fun they are, and then Kit and her husband, Craig, came over a few weeks later and detailed the whole plot for our first room, then we started doing what I call the hokey pokey and we were in and then we were out."
But after a year of planning, renovating and testing, the pair are now set to open Narrow Escape Rooms on October 8.
Their first room, Launch, will see teams made up of two to six people, work together to discover clues and solve puzzles before the hour is up and the world is overtaken by aliens.
Planning to open another two rooms over the next 12 months, the pair are excited to see their vision come to life.
"We've always been a close family, but I think our love of escape rooms has brought us closer," Ms Cootes said.
"It just promotes so much more discussion and excitement than anything else that we've done."
To book, visit www.narrowesc.com.au.
Lauren Suttie is the Weekender's General & Community News journalist.