The Federal and State Government's goal of creating 200,000 knowledge jobs within the Western Sydney Aerotropolis is off to a strong start with work set to commence at Sydney Science Park.
Today's sod‐turning ceremony, attended by Federal Minister for Urban Infrastructure and Cities, Paul Fletcher MP and NSW Minister for Western Sydney, Stuart Ayres, and Member for Mulgoa, Tanya Davies, signals the start of development at the 280‐hectare Luddenham site, which upon
completion is expected to deliver more than 12,000 smart jobs, educate 10,000 students and provide over 3,000 homes.
The $5bn Sydney Science Park is owned, and being delivered by Western Sydney‐based property group Celestino, with CEO John Vassallo, confirming that today's milestone was the culmination of years of collaboration with government, industry and the community and was the first step towards the realisation of Australia's first 'smart city'.
"This is the first major development to spring to life off the back of the Western Sydney Airport and our plan has always been to leverage the global opportunities that come with having Badgerys Creek at our doorstep," Mr Vassallo said.
"We're creating an ecosystem that will house some of the nation's leading scientific institutions and providing educational opportunities for western Sydney, such as our STEM school, that haven't been seen before.
"Science, research and technology will be at the core of our site, but we're not putting any limits on what we can achieve here. Our goal is to cement Sydney Science Park, and Western Sydney, as the nation's leader when it comes to education, innovation and sustainable communities.
"Our project is a real example of the types of opportunities that are going to open up within the Western Sydney Aerotropolis and we're proud to be the first to turn our vision, into a reality."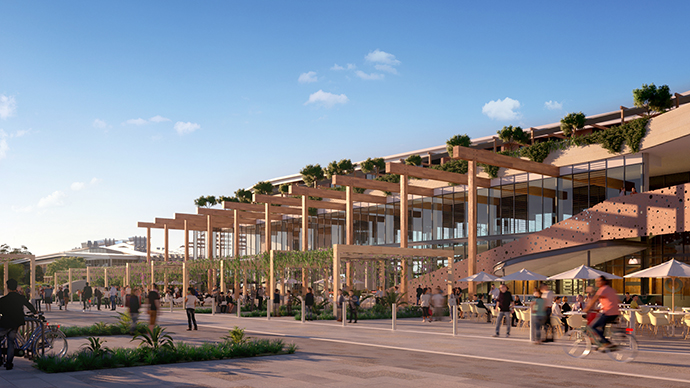 Mr Vassallo added that "collaboration was at the heart" of Sydney Science Park's success, with partnership agreements formalised with CSIRO, the Catholic Education Diocese of Parramatta (CEDP), ANSTO, and the Westmead Health Precinct's seven health, education and research organisations.
Sydney Science Park has also enjoyed strong support from Penrith City Council and its Mayor, Cr John Thain, as well as the State and Federal Governments, with the site housing NSW's first 'pre to post' (preschool to beyond Year 12) STEM School, in collaboration with the CEDP.
As part of today's launch, Celestino also announced a new partnership with Australian Nuclear Science and Technology Organisation (ANTSO) to develop a Collaborative Work Hub that connects activities from ANSTO's main campus in Lucas Heights and other facilities, to Sydney Science Park.
Federal Minister for Urban Infrastructure and Cities, Paul Fletcher MP, said Sydney Science Park's evolution reaffirmed the role of the Western Sydney Airport, along with supporting infrastructure projects such as the North‐South Rail Link, as major economic and urban renewal catalysts.
"In building Western Sydney Airport the Turnbull Government is not just delivering more aviation capacity for Sydney and fairer access to air travel for the people of western Sydney; we are also driving more businesses, more jobs and more activity for Western Sydney. Sydney Science Park is a great example," Mr Fletcher said.
Mr Ayres said: "Sydney Science Park is a microcosm of the wealth of investment happening across Western Sydney and will continue to attract likeminded businesses and organisations, and generate an innovation ripple‐effect across the rest of the region."
Ms Davies emphasised the importance of Sydney Science Park in bringing professional jobs and training to western Sydney, stating "Sydney Science Park is a huge win for the people of western Sydney. With more professional jobs coming into our region, people will be able to live, train and work in this great community."
The first stage of development at Sydney Science Park includes a mix of commercial, residential, education and open space.
The commercial buildings have been designed for a multitude of uses including retail; commercial; co‐working spaces; education; childcare and executive short term residential accommodation.
The buildings will also contain ultra‐clean laboratories that can operate to a standard capable of producing vaccines and will be home to world‐class Birling Avian Laboratory; responsible for avian research, development and testing.
The remainder of the first stage includes over 170 homes, a one‐acre central park and the STEMinspired school. Celestino anticipates that the first of its commercial buildings along with the STEM school will be operational by 2021.