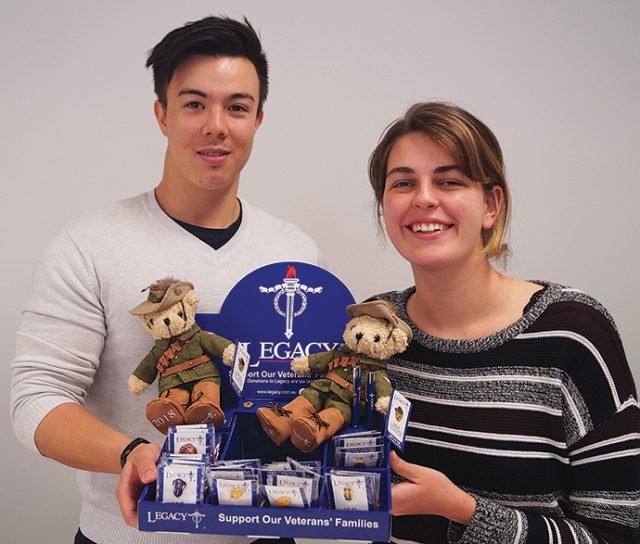 It started out in 1942 with the sale of buttons and stamps and, while the mechanise has evolved, the message during Legacy Week has remained the same; for every serving Australian there is more than one life at stake.
That is why locals are being encouraged to show their support to the families of ill or fallen veterans by buying a badge, bear or other merchandise during Legacy Week on September 2 to 8.
Growing up in Penrith, Legacy Junior Stanley Massam knows firsthand the important work that Legacy does after losing his father at a young age.
"It's just a way for me to give back to Legacy because Legacy has essentially raised me up during my studies and provided me with all different types of support," he said.
"During high school and university, if I needed text books or different types of equipment, then Legacy was there for me and if I was having dramas in my life, they provided a contact for support."
With Nepean Legacy currently assisting more than 370 Widows, 10 children and 13 veterans dependents with a disability, Legacy Nepean Division President Jeff Townsend said Legacy ensured they didn't bear the consequences of their loved ones' service alone.
"Legacy provides practical, emotional and financial support to families of Australian Defence Force personnel who have given their lives or health," he said.
"Our servicemen and women must always know that should they lose their lives or health in the course of their duty, the rest of Australia will look after their families through Legacy.
"We ask everyone to think about the families left behind and ask you support them in any way you can."
To donate to Sydney Legacy's appeal, visit www.legacy.com.au/sydney or you can buy Legacy merchandise on 'Badge Day', September 7 at Westfield Penrith, Penrith and North Penrith Bunnings, Penrith RSL, and at local shopping centres and train stations.
Lauren Suttie is the Weekender's General & Community News journalist.