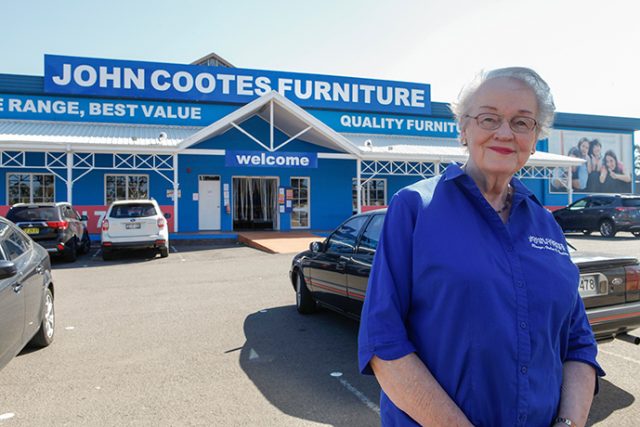 John Cootes Furniture in Penrith will shut its doors for good by the end of the year.
It is one of 12 stores that will close, with the curtain coming down on the 35-year-old business.
While 135 people across NSW and the ACT will soon be out of a job, 77-year-old Hazel Tutty, who works at the Penrith store, isn't worried.
Mrs Tutty, who has worked with the company for 24 years, told her upset colleagues to stay positive.
"The other workers couldn't understand why I wasn't upset but listening to the announcement put forward really showed how they're going to honour the store and provide us with everything we need, a lot of other companies would just close their doors and not care," she said.
Mrs Hutty was first employed by the company in 1994, where she met and worked closely with the original founder, John Cootes. She said that Mr Cootes visited the store at least once a week and treated all of his staff like family.
"John was a very generous man, I think that when you work for somebody like that you just want to work hard," she said.
"He even paid for the funerals for some staff members that passed away."
Mrs Tutty travels 45km to work every day from her home in Bilpin.
After working in the store for so long, she said she predicted the news.
Comparing sales from the 'early days' to now showed a significant decrease.
Chief Operating Officer, Paul Siviour, said the closure is due to fierce competition in the retail market.
"The increase in the competitive environment sees a combination of new entrants coming into NSW, with large chains opening new stores and also an increase in the marketing spend by those large retailers," he said.
Workers will receive full entitlements including redundancy payouts.
Mrs Tutty said she will continue to work hard and hopes to open her own scatter cushion business.
A graduate of Western Sydney University, Nicola Barton is a news journalist with the Western Weekender, primarily covering crime and politics.