A woman busted driving disqualified twice in four days has been blasted for deliberately flouting the law.
Siobhan Weber was told she would have been "fully aware" of her ban given she was in court when the order was made less than a week prior to her next driving while disqualified offence.
"Address me on why I shouldn't send you to jail given your antecedence," Magistrate Geoff Hiatt demanded when she appeared before Penrith Local Court last Thursday.
The court heard that despite attending court on April 3, Weber was caught behind the wheel on April 9 and again on April 13.
However, she contended she didn't listen to the magistrate.
"Well perhaps you should have!" Magistrate Hiatt fumed.
Magistrate Hiatt claimed the St Marys resident would have been "absolutely aware" of her disqualification on both occasions, but especially after police stopped her on April 9.
He told Walker these were not trivial matters.
"Ultimately you're only going to end up in one location – custody," he said bluntly.
"You need to get your act together."
She was convicted, fined $900, banned from driving for 12 months and ordered to enter an 18-month Section 9 bond.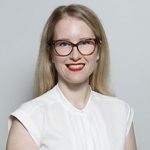 Alena Higgins is the Weekender's Senior News Reporter, primarily covering courts and Council issues.