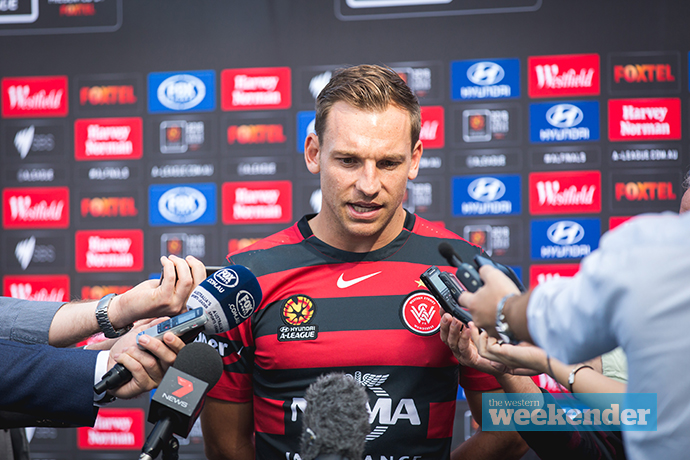 Popular striker Brendon Santalab has parted ways with the Western Sydney Wanderers.
Santalab, a fan favourite and the club's all-time leading goal scorer, spent five seasons with the Red & Black after joining the club in August 2013 from Chongqing Lifan.
The Wollongong junior played in 117 matches for the club across all competitions, including being part of the historic AFC Champions League triumph in 2014 playing in both legs of the Final with a serious shoulder injury.
Santalab endeared himself to the Wanderers faithful with his passionate performances for the club, winning the prestigious Wanderers Medal in 2017 and being the club's golden boot in two of his five seasons.
While the 35-year-old was offered an opportunity to remain with the club in an administrative role, Santalab has made the decision to continue playing on for at least another season.
Wanderers CEO John Tsatsimas thanked Santalab for his passion and relentless drive for the club over his five seasons.
"Brendon has been a wonderful servant for the club and we thank him for his contribution during his five seasons with us," said Tsatsimas.
"On and off the pitch Brendon has shown passion and pride in the club, and been a fantastic ambassador with his roles in the community.
"While we were hopeful that Brendon would take up a prominent role within our community programme that was offered to him, we totally understand and respect his desire to continue his career as professional footballer."
Santalab said he was grateful for his five seasons at the club, especially the support of the fans and the achievements he has made during his time in the Red & Black.
"It's been an incredible journey. I leave the Wanderers with an Asian Champions League Winners Medal, Player of the Year (Wanderers Medal) award in 2016/17, two golden boot awards and currently hold the club's all-time goal scorer title. I'm delighted with my time at the Wanderers," said Santalab.
"The fans have been instrumental in my success and I have been continuously overwhelmed by the ongoing support the people of Western Sydney have shown me during my five years at the club. Thank you.
"I would also like to thank Ronald McDonald House Westmead and ANZ Stadium for a great partnership during my time with the club.
"I wish the club, players, sponsors and fans all the very best in the future."