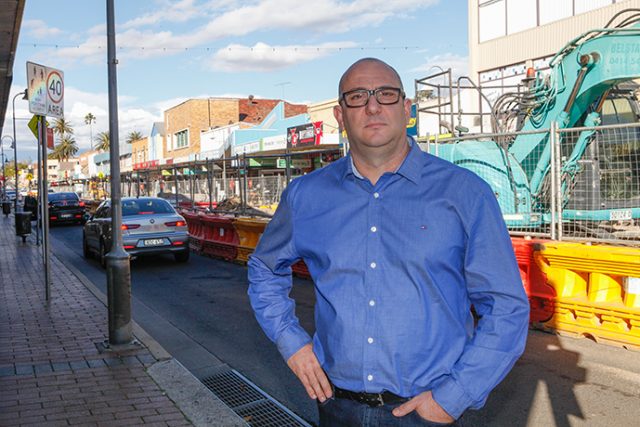 Asking the right questions appears to have cut four months from the construction time of High Street's upgrade, now expected to be complete before Christmas.
After Cr Mark Davies asked for a report to be brought to Council providing an update on the construction projects of Penrith's Triangle Park and High Street upgrade, Monday night's Ordinary Council Meeting delivered good news.
"Following intensive site investigations [of High Street] and design work in conjunction with the utility providers, there has been identified a surplus in the allowances made for utility relocation costs in the order of $420,000," the Council report states.
"This does allow the budget opportunity to pursue acceleration options with the contractor."
While there will be larger areas of simultaneous works during the construction period, the overall timeline is expected to be reduced by four months, to be completed by the end of November 2018 instead of the previous expected timeline of March 2019.
"I wanted to get the report because I wanted to find out the detail for why the Triangle Park took as long as it did," Cr Davies said.
"For the work on High Street, I didn't want to see that blow out in time, or see if there were ways in which we could make it as smooth as possible.
"My concern has been for the traders and businesses along there. This report has uncovered an opportunity to save four months of construction time.
"At the end of the day, it's a big outcome for shoppers, for the city, but most importantly for the businesses.
"The good thing is it will be finished at the end of November, just before Christmas, so it will be really beneficial for that busy holiday season.
"I think asking the questions, the probing and the process has been good. You put a little bit of pressure on, and who knows what you can uncover."
The report also highlighted that during the $3 million Triangle Park construction, water main issues lengthened the construction timeline to open fully 10 weeks after Council's expected completion date.
Also at Monday's meeting, Cr Marcus Cornish said that the damage done to businesses through the construction of Triangle Park was "appalling".
Emily Newton is the Weekender's police and political reporter. Emily is also the Weekender's Senior Journalist.