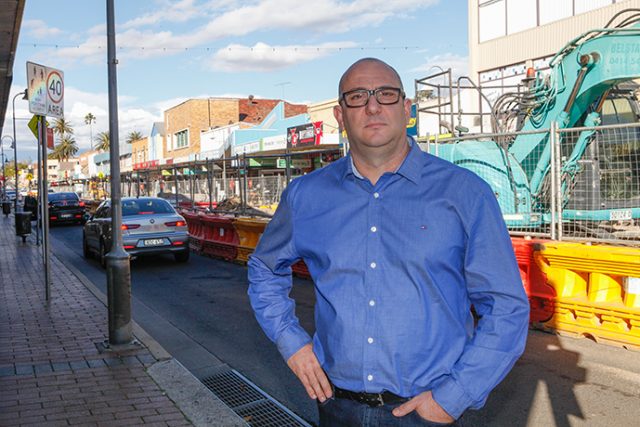 It was supposed to be a quick redevelopment of part of Penrith's CBD to help activate the city, but time and time again it's caused headaches for Penrith Council and local businesses.
In some good news for local residents and businesses, the Triangle Park is set to be complete this week.
But at Monday night's Ordinary Council Meeting, Cr Mark Davies said the Triangle Park upgrade on High Street has "taken absolutely far too long".
"I've been advised businesses are reporting losses of between 20 and 60 per cent," he said.
"If I was taking a hit of 60 per cent, I don't know if I would still be in business."
A chorus of Councillors agreed with Cr Davies' concerns surrounding the timeline of the Triangle Park's construction.
"I'm supportive of the Triangle Park in its construction, but what I am disappointed in is how long it's taken," Cr Davies told the Weekender.
"My concern is the project hasn't proceeded and hasn't been executed how it should have been."
With businesses adjacent to the construction area, Cr Davies said there are "economic consequences" Council needs to be mindful of, particularly after upgrades along Queen Street in St Marys were similarly dragged out.
"Now that we're starting the construction on High Street, it's important that we do that correctly," he said.
Cr Davies has called for a report to be brought to Council looking at the detail around Triangle Park and its setbacks, that he hopes will "hold to account the contractors" to ensure there are no future repeats.
A Council spokesperson said the park is due to be "completed this week for residents, workers, visitors and local businesses to enjoy".
"Unfortunately, the project was impacted by a 12-week unanticipated delay when an aging water main required replacement," the spokesperson said.
"The water main was required to be redesigned, engineered and approved thus adding time to delivery of the park.
"This was not a simple project with most of the complexity below ground as we also upgraded stormwater drainage that services the whole CBD."
Emily Newton is the Weekender's police and political reporter. Emily is also the Weekender's Senior Journalist.