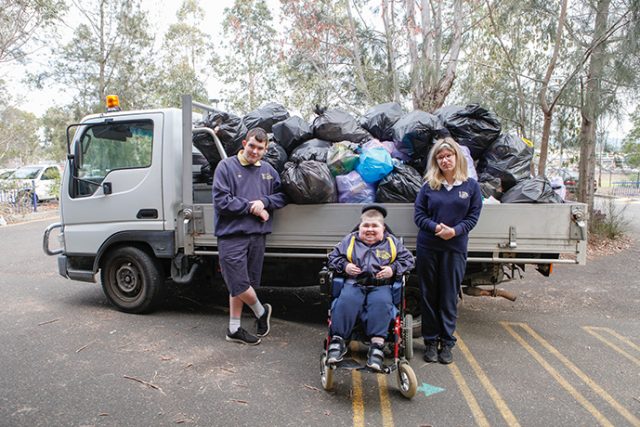 Students from Glenmore Park High School are turning trash into cash as they hope to raise enough money for a mini bus.
Collecting cans and bottles from their peers and community, the students from the support unit are using the Return and Earn scheme to raise money for the vehicle.
Spokesperson for the support unit, Lachlan Mackay-Caunce, said they hoped the bus would help reduce the costs of excursions, giving them more access to new experiences.
"For a long time, our support unit has wanted a mini bus, so we can increase the hands-on real life learning opportunities we can access," he said.
"We also wanted to stop recyclable items going to landfill."
Raising almost $3,700 of their $25,000 goal through cake stalls, raffles and Return and Earn, head teacher of the unit, Leasa Clark, said that while it was a slow process, they were all determined to see it through.
Lachlan, the first student from the support unit to be selected for junior leadership this year, said the project hadn't just inched the students closer to achieving their goal, but it had also given him new confidence, allowing him to speak and promote their cause at events.
"It's also raised the profile of the support unit in the whole school and has shown that these are just nice, lovely kids not to be scared of," Ms Clark added.
If you would like to donate towards the bus, call 4733 0155.
Return and Earn donations from the community can also be made at the school on the first Friday of every month from 3pm to 6pm.
Lauren Suttie is the Weekender's General & Community News journalist.