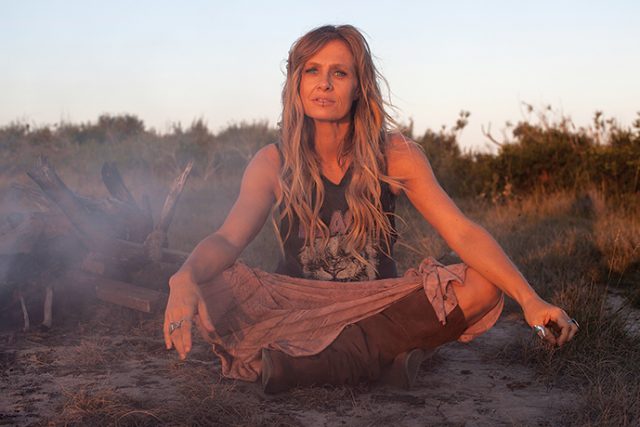 There is no denying that Australian country music singer Kasey Chambers isn't afraid to wear her heart on her sleeve.
From 'The Captain' to 'True Colours', the past 20 years have seen Kasey lay her life bare in her music.
But it's her 12th studio album, 'Campfire', that is her most intimate yet.
Growing up with a professional fox hunter as a father, Kasey said her inspiration for the album came from what was the centre point of their family growing up – the campfire.
"We spent a lot of time around a campfire. My mum cooked all our food on the campfire, we did all our schooling around the campfire, we all learnt to sing as a family around the campfire and so it has always been such an important part of my life," she said.
"I just really wanted to put it into a record and just sort of try and capture what it would be like if you came and sat in a little campfire session with us."
Joining her on this album is her band The Fireside Disciples, made up of three musicians who have all played a part in Kasey's life, including her dad, Bill Chambers.
"When I do a tour or a gig where my dad can't make it, I feel a bit lost because he's not only such a big part of my sound, but he's also such a big part of my journey through music," Kasey said.
Another huge part of Kasey's life is her three children: Talon, Arlo and Poet.
And while the 41-year-old admits that juggling her career with motherhood often feels a bit crazy, she said she's proud she's been able to live the best of both worlds.
"Sometimes I honestly go a bit crazy because I'll be one day making school lunches and then the next day I'm flying to Nashville, or I'll go from the ARIA Awards to waking up the next morning and getting nits out of my kids' hair," she laughed.
"I've definitely been through that stage where I feel like I want to do everything, I want a career and to be a super mum.
"But at the end of the day I realised that it doesn't exist and while trying to do everything so perfectly right, you actually just miss out on enjoying everything and being real."
Kasey Chambers will be performing at Rooty Hill RSL on Saturday, June 16 at 8pm. Tickets are $45. To book or for more information, call 9625 5500 or visit www.rootyhillrsl.com.au.
Lauren Suttie is the Weekender's General & Community News journalist.