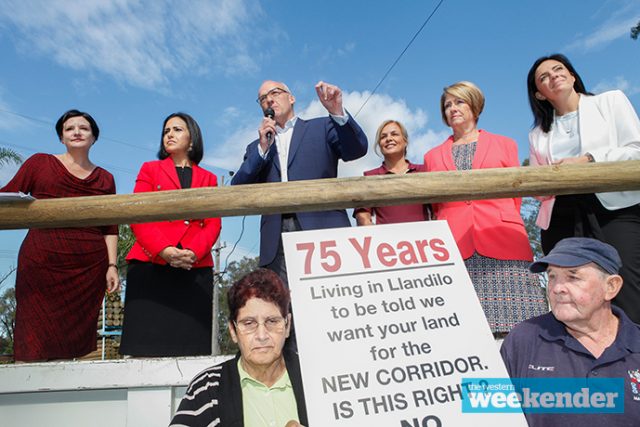 Labor will keep the 1951 alignment of the Castlereagh Corridor if it wins Government next March.
This morning, over 300 local residents crowded into Raygal Landscape and Nursery Supplies in Cranebrook to keep the pressure on the current State Government to stick with the original Bells Line of Road – Castlereagh Connection corridor.
"My commitment to you is if Labor is elected to form Government at the State Election next March, the first thing I will do as Premier is gazette the 1951 corridor and rip up this new corridor," Opposition Leader Luke Foley told the gathering.
"I will tear up this new corridor because it is obscene that people over decades make decisions about where you buy land, about where you built homes, about where you establish businesses, and decades later a government comes in and plows a new corridor through your property for a motorway when since 1951 people have been told there is a corridor in place."
Member for Londonderry Prue Car has been campaigning hard against the proposed realignment of the corridor, which is currently undergoing community consultation.
"Everyone across NSW is with you in this fight," she said to the crowd.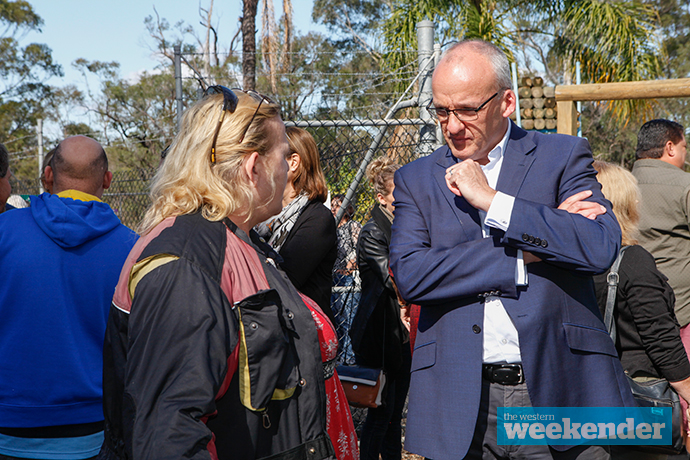 Mr Foley was also joined by Shadow Roads Minister Jodi McKay, Labor Councillor and State Penrith candidate Karen McKeown and Federal Member for Lindsay Emma Husar.
"Once again this arrogant Government has come along with plan to rip up people's homes with zero community consultation," Ms McKay said.
"About 300 properties could be destroyed by the Roads Minister's and Western Sydney Minister's realigned corridor."
Vowing to keep the 1951 corridor if elected, Labor says residents "shouldn't have to wait" until the 2019 election for peace of mind.
"Frankly, it ought to be ripped up today. You shouldn't have 11 more months of worry," Mr Foley said.
"This fight can, and must be won."
The new proposed corridor cuts through properties in Castlereagh, Cranebrook and Llandilo, leaving residents who bought property believing they were clear of the corridor furious and anxious.
When contacted for comment, Member for Penrith and Minister for Western Sydney Stuart Ayres said Mr Foley's promise was "nothing more than a Labor stunt".
"The Castlereagh Corridor has been gazetted since June 27, 1951. It's still gazetted today. Foley is promising something that already exists," he said.
"There has been strong feedback from the community in the Castlereagh area that they prefer the original corridor over the new corridor proposed by Transport for NSW."
He said that Transport for NSW is currently consulting on an alternative to the 1951 corridor, seeking the views of the community until June 1 to consider community feedback before determining if any changes need to be made to original corridor.
Visit www.transport.nsw.gov.au/corridors/blor for more information.
Emily Newton is the Weekender's police and political reporter. Emily is also the Weekender's Senior Journalist.