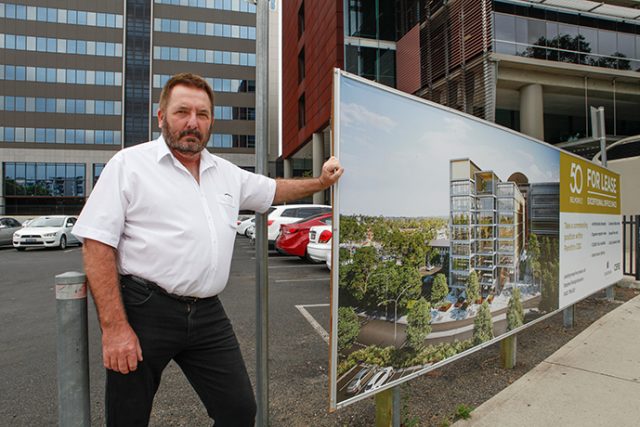 The parking battle in Penrith continues and Councillor Marcus Cornish warns it's about to get a whole lot harder for locals to find a spot.
As the city develops, some public car parks are set to disappear in the future, including the eventual development of the Belmore Street car park near the tax office and the Woodriff Gardens site near the tennis courts, that will be used during the Jane Street and Mulgoa Road infrastructure upgrade.
"You're going to lose approximately 80 spaces just at the tax building," Cr Cornish said.
"The one beside the tennis courts is about to go temporarily once work starts on the Jane Street extension.
"Once that goes, they've got to look for other temporary spots."
Council said it is continuing to try and find the best solution to parking needs.
"Parking management is a complex issue and Council is working to create smarter parking options, to meet the needs of current and future residents, shoppers, businesses and commuters," a Council spokesperson said.
While no closure date for the car park at Belmore Street has been determined yet, Council is currently in "discussions" with Roads and Maritime Services (RMS) surrounding the Woodriff Gardens car park.
"Council is aware of the demand on parking in the City Centre and is committed to working with the RMS to minimise the impact during any future road upgrade works," the spokesperson said.
"Once a timeframe for any road upgrades are established, the community will be informed."
Cr Cornish has suggested areas that could be better utilised for commuters might include the land near the Lemongrove Bridge or the unused site behind the old ambulance station.
He praised the hard work of Council staff trying to find beneficial parking solutions for the community and said the State Government need to help rather than continue to cause parking woes.
"Replacement parking also needs to be restricted otherwise it's going to be used by commuters," he said.
"The State Government is going to have to step up to the plate and supply more parking if they want commuters to use rail."
Emily Newton is the Weekender's police and political reporter. Emily is also the Weekender's Senior Journalist.