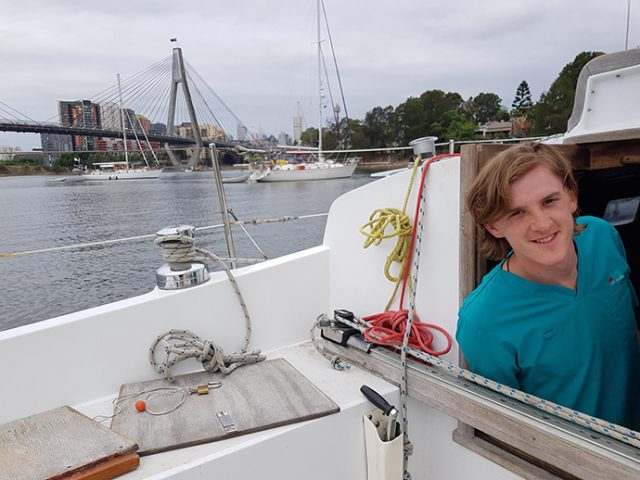 At 27-years-old, one local doctor is getting ready to sail across the Pacific Ocean this month, all in the name of charity.
For weeks on end, Nepean Hospital resident doctor, Andrew Brazier, will have just himself for company as he embarks on a 15,000km solo journey across the Pacific in an effort to lift literacy levels in Indigenous communities across Australia.
It was through literature that Dr Brazier found a love for the water.
"I first really got the passion for sailing through reading," he said.
"I just fell in love with the idea of sailing."
Beginning his journey at the end of the month, Dr Brazier, who lives in Faulconbridge, was inspired to raise money for the Indigenous Literacy Foundation.
Without question, books are an integral part of his identity.
Reading Joshua Slocum's memoir Sailing Alone Around the World inspired a love of sailing, and L. M. Montgomery's Anne of Green Gables sparked a caring curiosity that lead him towards following a career as a doctor.
75 per cent of Indigenous children haven't reached minimum reading standards by Year 5, and Dr Brazier hopes to raise funds and awareness to help educate and inspire kids with books like he was.
"It really is a happy marriage of things," he laughed.
"The dreams that I had as a child I got through reading and I wanted to try to give that back.
"I wanted to really do something that was significant, and I really want to challenge myself."
Voyaging across the Pacific Ocean on a 10 metre sailing boat from Sydney to Los Angeles, Dr Brazier is in for an incredibly challenging trip.
"You've got be a good sailor to get across the ocean but the real success of the trip is being ready," he said.
"With sailing, it's not a single event, it is a multitude of events, of which any multiple could go wrong at any time."
Dr Brazier said he's hoping others will follow in his footsteps and get involved with community projects.
"It's very easy to get behind causes and put your names down, but I'm hoping to encourage people to actually do something, help make a change," he said.
Dr Brazier has already raised over $7,000 with hopes to reach $100,000.
Visit www.aloneinthepacific.com to donate and follow his journey.
Emily Newton is the Weekender's police and political reporter. Emily is also the Weekender's Senior Journalist.