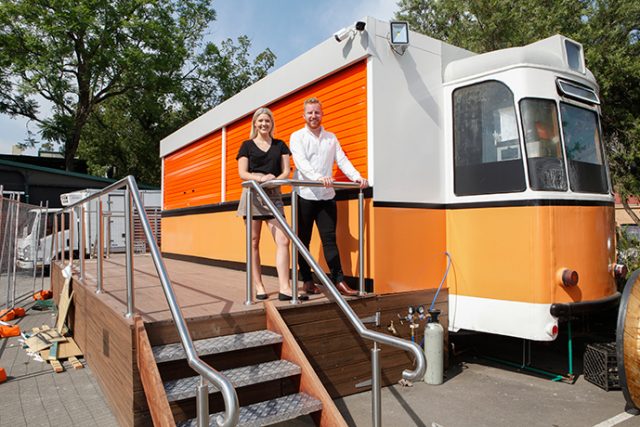 Once taking passengers on their daily commute through Berlin, a 1964 tram will again be serving the community.
Located in the car park of local Irish pub O'Donoghues at Emu Plains, the tram is set to be the watering hole's newest attraction after it was fitted out with a kitchen and bar.
Originally starting out as a need to take some of the heat off their busy kitchen, Marketing and Events Manager James Crowe said it became a much bigger project than first anticipated.
"We started off with a concept that we wanted to do a caravan kitchen or a food truck, but the idea has kinda just taken off and now it has turned into a much bigger thing than we initially intended," Mr Crowe said.
"Penrith is starting to have more of a night life and we want to be part of that."
Recently holding a naming competition for the tram, the pub received over 300 worthy entries, but in the end Mr Crowe and his team decided to go with something simple: The Carriage.
"We got a lot of ones that were puns and we even got Trammy McTramface," he said.
"I think The Carriage is a name that is catchy and tells you what it is and I think it's got a lasting appeal."
With the Tequila Mockingbird burger and Stacked Tater Gems already announced on the menu, locals will be able to get their first taste of what The Carriage is all about on February 2.
"We're going to have a base menu, it's all going to be that easy street food, so stuff you can essentially hold in one hand and a drink in the other," Mr Crowe said.
Lauren Suttie is the Weekender's General & Community News journalist.