After months of uncertainty, years of discussion and an at times vicious battle between the Yes and No camps, Australia has voted 61.6 per cent to 38.4 per cent in favour of supporting same-sex marriage.
The figures, released by the ABS this morning, show the majority of people are in favour of changing the law to allow same-sex couples to marry.
The ABS confirmed today that more than 12 million people completed their postal survey, some 79 per cent of eligible people.
In the Lindsay electorate, 56.2 per cent of people voted yes while 43.8 per cent voted no.
Local couple Jarrod Glascott and Richard Baler have been engaged since 2015, and are currently planning a wedding in Hawaii.
"We got engaged well before all of this," Mr Glascott told the Weekender before the results were released.
"We're committed to Hawaii but it puts a bit of a dampener on it when we go through the celebrant over there and we don't really know what it will mean when we come back here.
"We will be married in the US, but it doesn't mean much here which is a bit disappointing.
"We would have loved to get married in Australia and have all the family there."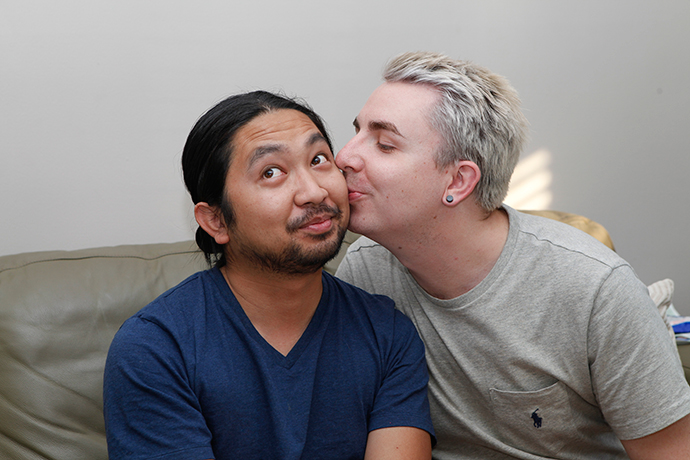 While he is surrounded by supportive family and friends, he knows that's not the case for everyone.
"A couple of times I've gone and looked at Facebook comments, but you just have to roll your eyes at some of the things that people say," he said.
"A lot of the negativity comes from a lack of knowledge, lack of awareness and people that don't know someone that is affected by this issue."
Costing $122 million, the postal survey was ultimately an opinion poll with no legal standing, meaning it could still be months before Parliament processes legislation to reflect the vote despite Prime Minister Malcolm Turnbull telling media he was hoping marriage equality would be legal by Christmas.
Mr Glascott said that it is disappointing that the postal vote had to happen in the first place.
"It has been used as a political weapon," he said.
"It's gotten to the point now where it's embarrassing that the rest of the world has moved on from this issue and Australia has just harped on about it."
Lindsay MP Emma Husar has been vocal in her support of same sex marriage, and has said she will vote in Parliament in support of same-sex marriage.
For many people in same-sex relationships and those who are a part of the LGBTIQ community, while the results of the vote are released, it's still far from being over.
The first step is beginning the healing process.
"It will just be great to have that validation," Mr Glascott said.
Emily Newton is the Weekender's police and political reporter. Emily is also the Weekender's Senior Journalist.