Walk through the doors of Jabalna Lebanese Cuisine in Emu Plains and you'll be greeted like family.
Owners Sayed and Marlain Fares have created a little piece of Lebanon at the foothills of the Blue Mountains, fulfilling a life long dream to bring the cuisine of their home country to the hungry mouths of Penrith.
"For over 25 years I have wanted to open up an authentic Lebanese restaurant that would provide high quality food with a family focused atmosphere," Mr Fares said.
"Family and food are the epitome of Lebanese culture, so when you're guests dining with us you're family."
Opening in early October, this authentic Lebanese restaurant is not only family focused but also family operated, with Sayed and Marlain joined by their daughter Maryanne, sons Elie and Shadie, and their partners Abir and Rachel.
Together the team have created a warm and inviting dining experience that's as much about the food as it is about the service.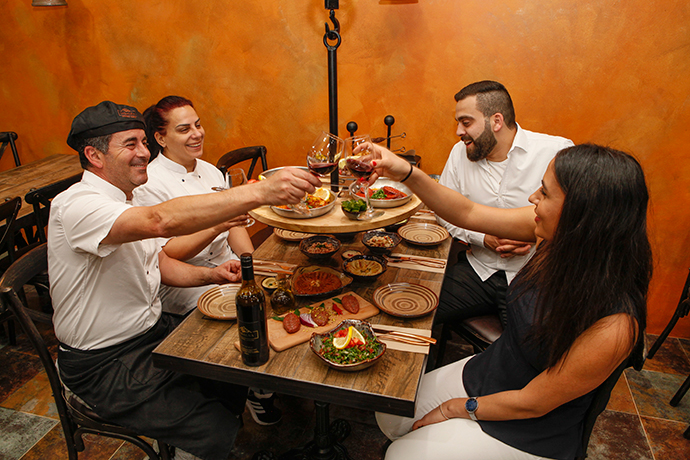 "When you first walk into Jabalna you instantly notice the ambiance, decor and environment," Mr Fares said.
"We're also trying something new and innovative in the way that Lebanese food is usually presented – from hanging our mezza from suspended chains and hooks, to the lack of your run of the mill white plates. The experience is both modern and traditional with authentic influences."
Created with fresh local produce, the menu is packed with Lebanese favourites including a range of mouth watering mezza, shawarma, and a selection of grill platters.
To add to the experience, Jabalna also offers its guests live entertainment, as well as a kids' play area.
Jabalna may still be in its infancy but with passion and family on side, the future is looking bright.
"Our family is working day and night to ensure our guests are our priority and our food is of the highest standards," Mr Fares said.