Penrith Golf Club will take part in a state-wide golf participation project to help increase the number of seniors playing golf.
The 'Get into Golf – for Seniors' program will provide opportunities for seniors who may never have played golf, to get involved with the game, to make new friends, to learn basic skills, and to stay fit and healthy.
The program is a six week course – one hour per day, once a week – targeted at individuals 55 years and over that may never have played golf before and would love to give it a try. It's also open to people that have played in the past and would like to be involved again.
Penrith Golf Club General Manager Brendon Kop explained why his club decided to get involved in the program.
"Golf NSW developed the 'Get into Golf – for Seniors' program and we see it as a great opportunity for community engagement and to encourage new golfers to the sport," he said.
"The club has great facilities that can easily support this initiative."
Kop said he's noticed many people in their older years take up the sport of golf during their retirement or after giving up more physical sports like football or netball.
The 'Get into Golf – for Seniors' program costs participants $99 and includes all the equipment and instruction seniors need to enjoy the game of golf.
"The clinics cover all facets of the game from driving the golf ball to chipping and putting," Kop said.
"In the last two weeks of the program, participants will go out onto the golf course to play one or two holes with their professional instructor and some members of the club."
The program will be delivered weekly at Penrith Golf Club from Thursday, October 19 to Thursday, November 23.
For more information or to register, visit www.golfnsw.org/seniors or 4736 1633.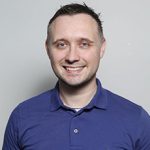 Nathan Taylor is the Weekender's Deputy Editor and Senior Sports Writer. He also compiles the weekly Chatter on the Box TV column. Nathan is an award-winning journalist, who has worked at the Weekender for nearly a decade.