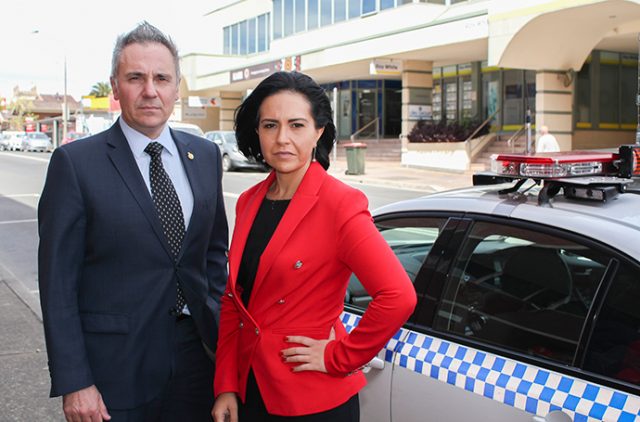 Member for Londonderry Prue Car has joined Shadow Minister for Police Guy Zangari in calling on the Liberal National Government to come clean about plans to amalgamate Local Area Commands.
It is reported that the 48 current Local Area Commands will be cut to 34, affecting hundreds of jobs, and St Marys and Penrith LACs could be in the firing line according to the Opposition.
"If you amalgamate Penrith, which is a large Local Area Command, and St Marys, you're going to get a bigger geographical area to cover," Mr Zangari said.
"The Government needs to come out and tell us what the population to police ratio will be in a super LAC.
"The community also has a right to know what services are going to be moved to a particular station.
"Whether that's multicultural liaison officers, domestic violence officers, youth liaison officers, these people the work in their tight knit communities, so if you rip them out and move them 15 or 20kms down the road, you lose that sense of community."
Ms Car believes local officers need more support, not less as St Marys faces one of the highest incidences of Ice detection in the region and Penrith is fighting against domestic violence.
"Both of these Local Area Commands are right in the middle of a booming part of Sydney," she said.
"If they merge St Marys and Penrith, and you've got one huge Local Area Command that goes all the way east almost to Mt Druitt and all the way down to the Warragamba Dam, that is too big of an area for our community not to suffer."
Mr Zangari labelled the police amalgamations "akin to the Government's forced local government amalgamations."
He said the move is eerily similar to the decision to create ambulance superstations, of which Penrith's is due to open this year, that have actually increased ambulance response times instead of shortening them as intended.
"Out here in western Sydney, if you do that in a geographical area that is very big, that could potentially be life threatening to individuals," Mr Zangari said.
"I can tell you that coppers have spoken to me and there's much angst in their ranks at the moment because they don't know which way they're going."
But the amalgamation is more than just the physical distance traveled by officers, as their stress and anxiety levels could also climb if it takes longer to respond to call outs.
"When they're responding to these crimes, [stress and anxiety] goes up," Mr Zangari said.
"If they've got a greater distance to cover, that puts them under the pump."
Their concerns are echoed by the Public Service Association (PSA) who fear a Government restructure of NSW Police will adversely affect communities.
"We are extremely concerned about the loss of critical civilian support staff who ensure police are properly equipped to be able to undertake the full range of their duties on behalf of their local communities," Acting PSA General Secretary, Troy Wright said.
The PSA wrote to Minister for Police Troy Grant last week demanding detail of what would be the biggest restructure in 20 years, but had not received a reply.
Emily Newton is the Weekender's police and political reporter. Emily is also the Weekender's Senior Journalist.