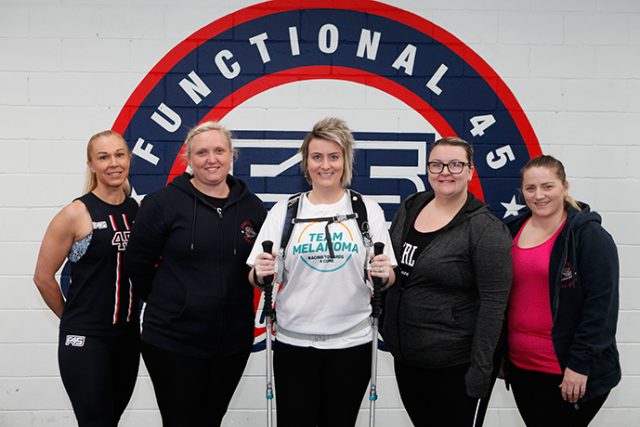 When cancer survivor Emma Dunlop set her sights on walking the Great Wall of China, it was something she desperately wanted to do. Now that the cancer has returned, it's something she needs to do.
When the Weekender last spoke to Cranebrook's Ms Dunlop, she was on cloud nine as a scan in December revealed she was cancer-free after being first diagnosed with melanoma in 2014 that had spread to her lungs.
"The scan after the Melanoma March showed that it was in both my lungs again," Ms Dunlop said.
She refuses to let the return of her cancer hold her back, having started immunotherapy treatment while training to take on the Great Wall of China.
"Because of treatment, I haven't been able to get back into the gym, but I'm slowly getting back into it," she said.
"My body doesn't cope like other people. My immune system is obviously busy at the moment, so it's going to take me twice as long to recover."
The 11 day walk in September might be her toughest challenge yet as she fights Stage 4 cancer each step of the way, determined to find a cure.
"I feel a lot stronger in the head than last time," she said.
"I feel the positivity knowing that I've done it before, I can do it again."
Australia has the highest incidence rate of melanoma in the world and over 1,200 Australians will die from it every year.
To help raise money for The Melanoma Institute of Australia for research towards a cure, Ms Dunlop is also holding a Naughty Numbers charity night full of bingo, games and fun activities, which locals are encouraged to attend.
The event runs from 6.30pm on Saturday, August 12 at Penrith Hotel Motel and tickets should be purchased in advance.
For more information, email [email protected] or to donate, visit miagreatwallofchinatrek2017.gofundraise.com.au/page/EmmaDunlop0.
Emily Newton is the Weekender's police and political reporter. Emily is also the Weekender's Senior Journalist.