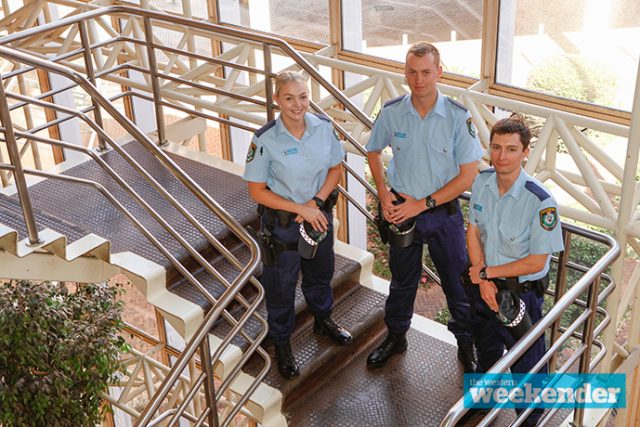 Seven newly graduated officers are strengthening the local community after joining Penrith and St Marys Local Area Commands this week.
Three new police recruits – Maddison Rohloff, Kieran Kaccin and Jordan Gregory – have been welcomed at Penrith as probationary constables.
Ms Rohloff said the graduation ceremony last week and her experience at the Goulburn academy was something she will never forget.
"The academy was really good, we had a really tight knit group of girls, so it was like being with your sisters every day," she said.
"I'm excited to be here, I grew up in Penrith so it's good to be working where I am familiar."
Their first day on Monday, full of paperwork and inductions, kept their spirits high as the fresh recruits became familiar with their new workplace.
"I'm just excited that I've made it this far, I did the uni course at UWS for three years and after going down to Goulburn, I'm so glad I've made it all the way to this point," Mr Kaccin said.
Mr Gregory added that becoming an officer was his "childhood dream".
"It was hard being away from family and friends for eight months, but I'm so excited to start," he said.
Four recruits also joined St Marys Local Area Command to begin their policing careers.
NSW Police Commissioner Michael Fuller officially welcomed 142 new policemen and 36 new policewomen at his first graduation ceremony since his appointment on March 31 this year.
"These new recruits will experience all facets of policing over the next 12 months but, most importantly, they will boost our frontline response capacity," Commissioner Fuller said.
"Police play such an important role in our community and these officers have worked hard – both physically and academically – to reach this milestone."
Police Minister Troy Grant joined Commissioner Fuller to congratulate Class 330 on graduating as the State's newest probationary constables.
"These men and women deserve the entire state's gratitude for dedicating their careers to the reduction of crime and ultimately, the safety of their communities," he said.
Emily Newton is the Weekender's police and political reporter. Emily is also the Weekender's Senior Journalist.