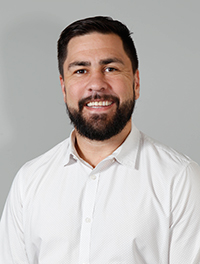 Before I talk about what I think went wrong for the Panthers last Saturday against the Dragons, I wanted to touch on the Bryce Cartwright situation first.
After watching Phil Gould's press conference on Monday afternoon, the club needs to be applauded on how they are handling the drama.
I've played at Penrith and know how strongly the club cares for women and women's rights. They have some fantastic women employed there who are a huge part of the club's success both on and away from the field.
At no point when this story came out did I think that the Panthers didn't respect women.
The club made a statement on the two young people involved, and as a player and friend, you want to be there for Bryce. I think the team will be there for him also.
The next question is when does Bryce play? Well he plays when he is ready.
I know he's been named to play against the Wests Tigers this Sunday but there is no time limit when this stuff happens in people's personal lives – you don't have to come back and play straight away.
How this situation affects the players this week? I think they'll handle it just fine.
They would've gone back to training this week to focus on Sunday's game against the Tigers. You don't want to go to Campbelltown with any excuses.
Now, to what happened against the Dragons at Kogarah last weekend.
I could rattle off a thousand excuses – I'm a footballer – but at the end of the day they simply weren't good enough.
I said last week that when you play at Kogarah there's a different atmosphere there, because usually no one is expecting anything from the Dragons and sometimes those games are the toughest to play in.
For me, I think the loss is a blessing in disguise.
Had Penrith come out and won by 40, the hype machine surrounding the team would've kept on rolling – instead it's come to a halt.
This young and exciting squad – tipped to win the comp – received their wake-up call straight away and I think, if anything, that's a positive going forward.
Hook would've been very disappointed but it's only Round 1. While some players looked underdone, I saw enough class and touch from the players that I know they'll be there come Finals time.
Maybe it's going to be a harder road for them than many predicted, but they'll be there.
I thought Waqa Blake was fantastic and I enjoyed seeing Tyrone Peachey fill in for Peter Wallace, when he was injured, at dummy half.
There might be a couple of changes to the side come game day, although Hook may just give that team one more chance to see what they have left.