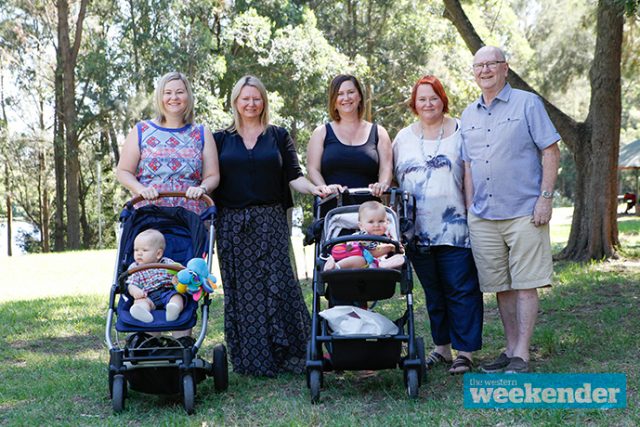 One Glenmore Park family is coming together to walk in support of their mother who was diagnosed with Alzheimer's five years ago.
Sisters Lisa Shanley and Jo Svensson will be proudly marching alongside their other two sisters, father and family members in the Alzheimer's Australia Memory Walk and Jog at Penrith on Sunday, March 12.
Ms Svensson said the journey for the family has been long and difficult.
"In 2010, we started noticing things and she went to the memory clinic and was diagnosed with mild cognitive impairment, which now we know is what you have before you get Alzheimer's," she said.
"She was only 65 at the time, so it was early onset Alzheimer's and it moved quite swiftly after that.
"Once she was diagnosed we started remembering little things that had happened even before she was diagnosed, and it all started to make sense."
For their mother Anne, the first things she began struggling with were simple, everyday activities.
"The hand pump would have the Morning Fresh and the Morning Fresh would have been filled with soap. She'd forget that she had washed the linens and then she'd go and wash them again. She forgot how to make gravy, lots of little things," Ms Shanley said.
"She had a seizure and she went down hill. We thought we were going to lose her."
The family are hoping by walking together they can raise money and increase awareness of dementia and Alzheimer's, particularly as people are being diagnosed at younger ages.
"Obviously we want a cure, but we also want good services where we know they will make a positive impact," Ms Svensson said.
"I think Nepean Hospital is swamped, and the numbers of people diagnosed with dementia is going up and up, so it's difficult for them to cope with the sheer volume of people."
The funds raised through the Memory Walk and Jog will go towards providing vital support services including counselling, support groups and professional training across NSW.
For more information on the walk, visit www.memorywalk.com.au.
Emily Newton is the Weekender's police and political reporter. Emily is also the Weekender's Senior Journalist.