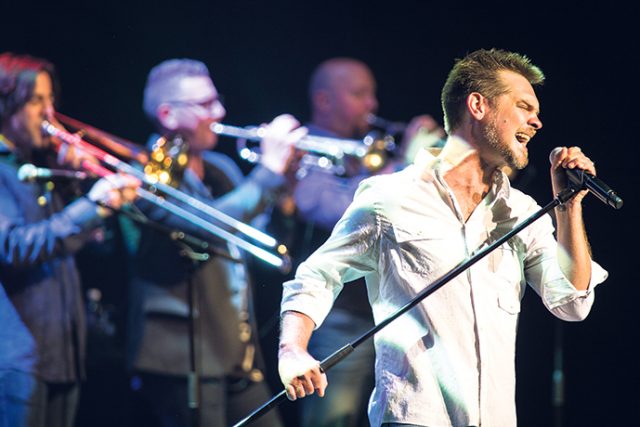 Any band that's been around for decades is likely to have gone through a few line-up changes.
At last count Blood, Sweat and Tears has featured more than 150 musicians.
Rather than being a blight on the band's legacy, it's more-so a testament to the fact that it's the music – not the individual personalities – that make Blood, Sweat and Tears so popular with audiences young and old.
Heading up the current incarnation of the American jazz-rock band is 'American Idol' season 4 runner up Bo Bice – who performed one of the band's biggest hits 'Spinning Wheel' live on the show.
Fast forward to 2013 and after a dinner meeting, Bo was asked to join one of his favourite bands as guest vocalist.
"Initially I had just come in to do three or so shows," he said.
"Then three turned into five, and the five turned into eight, and now we're on our second trip over to Australia."
For Bo it's been a fantastic experience performing on stage without having to worry about the responsibilities of a solo artist, where you have employees relying on you to make a living.
"It's offered me a couple of years of just being able to be a normal guy, but for 90 minutes a day I get to go play rock star which is kinda cool," he said.
"I get to do what I love – playing with Blood, Sweat and Tears – but also it's left me more opportunity to do some other things that I love – being a good dad and husband, but also pursuing opening my own music school and music store."
Blood, Sweat and Tears will be heading to the Evan Theatre at Penrith Panthers in March, and while Bo is now well and truly a member of the group, he is adamant that the focus be on the music, not him personally.
"If you're expecting to come along and see Bo Bice be the star of the show you're probably not going to be very happy, because the star of the show is the catalogue," he said.
"You have to be on top of your game to play this catalogue of music, and I believe any singer on the face of the planet would say that."
Blood, Sweat and Tears will be performing at the Evan Theatre at Penrith Panthers on Saturday, March 18 at 8pm. Tickets are $73.60. For more information or to purchase tickets, visit www.penrith.panthers.com.au or call 4720 5555.