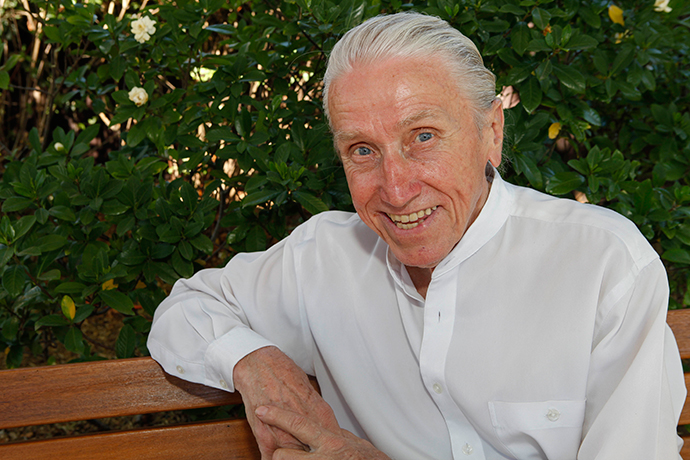 Penrith Council's Citizen of the Year has been awarded to local vibrant identity Ross (Rossco) Hutchinson.
Rossco is known throughout the community for his many entertaining pursuits and charitable causes and has lived in Penrith for over 50 years.
Rossco was one of eight residents awarded Australia Day honours at a formal dinner held at the Civic Centre last night.
Penrith Mayor John Thain said it was great to recognise the achievements of those who work tirelessly for the local community.
"The award recipients deserve recognition for their time, effort and dedication to our City and the community," Cr Thain said.
Rossco has spent most of his early life living in Penrith and Kingswood before his show business career took him away to amazing places and adventures.
Since his return to the area over 30 years ago, Ross has been a pillar of the community.
He established Penrith's first Performing Arts Academy and has taught thousands of children, even touring to overseas festivals. He is an active member of the community, and gives back through community radio, Rotary and the Carer Cars organisation – who provide transport to people with disability and the disadvantaged.
Ross is also a patron of multiple community organisations and continues to develop Performing Arts programs to the benefit and delight of the community.
The Young Citizen of the Year award went to Mitchell Beggs Mowczan, a true community leader with a heart of gold, who has dedicated six years working for the Aboriginal health team "Close the Gap".
Sportsperson of the Year is Leonie Moore, who has been involved in Penrith basketball for more than 30 years, supporting and growing the sport throughout the area. She is a dedicated coach who nurtures the talent of young athletes by generously sharing her own skills.
Ray Debono was awarded the Local Hero gong. Ray is a long-time local and dedicated family man. He is also humble, selfless and committed to his community, and raising funds to support important causes and help change peoples' lives.
Ray has donated blood and plasma over 225 times, shaved all his hair (beard and legs included) to raise tens of thousands of dollars for the World's Greatest Shave, and has completed the Oxfam Trail Walker event for the last seven years, raising over $116,000 through this event alone.
Ray is also a member of the Pendragons Dragon Boat Club, supporting breast cancer awareness and the Australian Organ Transplant Games.
Local Appreciation Awards were handed out to Kevin Finlayson, Christine Erskine, Robert Baines and Denise Roberts.