Muesli bars, juice boxes and chocolates are rapidly becoming a thing of the past when it comes to children's school lunch boxes.
Nutrition Australia is advising parents to start getting their child to eat healthier, more nutritious foods by choosing a variety of food types using the Healthy Living Pyramid.
Things like bread, fruit and vegetables, and moderate amounts of dairy and meat or meat alternatives will ensure your child is getting a wide range of nutritious foods.
Glenmore Park mum, Tegan Palu, has a nine-year-old son, Jonah, and a younger daughter, Ivy.
Ms Palu said she encourages healthy eating at all times.
"Jonah is an active child – he does gymnastics – so making healthy choices for him will help his muscles grow and eating nutritious food will help physically and mentally," she said.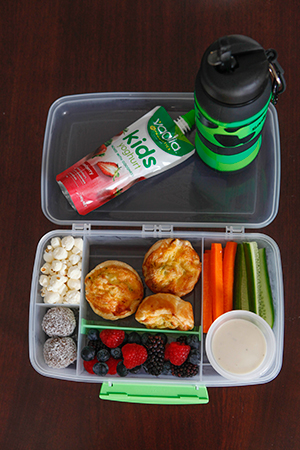 Ms Palu added she tries to stay away from sugar and 'junk' food items as much as possible.
"I can't fathom giving him a lot of junk food," she said.
"I make cakes regularly but it's not an everyday thing I give my children.
"And when it comes to sugary foods or 'junk' foods I try and opt for a healthier alternative such as popcorn instead of chips – chocolate and lollies are more of a treat in our house."
Ms Palu said preparation is often the key to healthy eating.
"I cook things a lot and prepare on the weekend for the week ahead," she said.
"Store bought items are full of sugar and preservatives so I try to prepare a healthy wrap with fresh salads and meat.
"I also whip up quiches which are really simple and the kids participate in 'crunch and sip' at school so they get their vegetables and fruit then too."