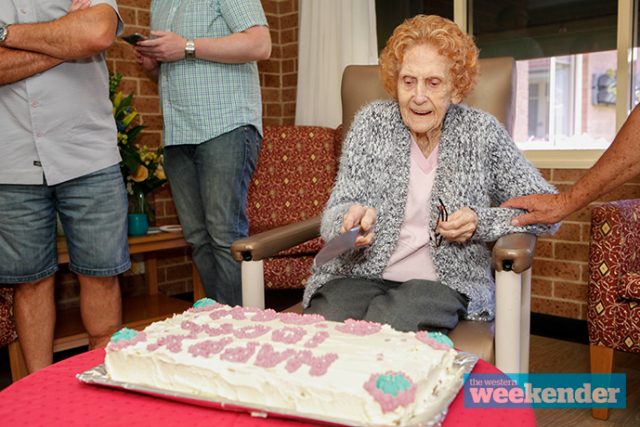 Humour and modesty are the traits that Thora Lillian Underhill, better known to friends and family as 'Becky', is most known for.
And it was these traits that were celebrated on Monday at Mountain View Aged Care Facility, when Becky turned 100.
Family travelled from as far as Broken Hill and Adelaide to celebrate the life of their beloved family icon.
Born on January 23, 1917 in the small north coast town of Coraki, Becky has lived a life full of both good and tough times.
In 1935, she married her first husband Joseph Becker with whom she had two daughters, Yvonne and Jan.
Her husband served during World War II, and Becky moved with her daughters to Sydney where she worked at a bakery and at Newtown's Bank Hotel.
In 1952, while searching for a more stable environment to raise her daughters, she answered an advertisement for a housekeeper in Homebush.
It was here she met her second husband, Bill Carter who she married in 1957, some 60 years ago.
After Bill passed away, Becky lived in Bidwell before moving to a granny flat on her daughter's property in Mt Druitt.
Her son-in-law, Kevin, recounted many stories from her life he has had the pleasure of hearing.
"One of her earliest recollections is of riding a horse to school with her sister and brother – the three of them on the same horse," Kevin said.
"On occasions magpies would attack them and they would arrive at school with blood on their heads."
Still young at heart, the entire room erupted with laughter when she shared her secret to reaching 100-years-old.
"It just happened… I don't feel any different," Becky said.
Her family members were quick to quip back, joking about how she smoked for the better part of her life and that it was the youth of her wonderful grandchildren that kept her young.
Her daughter Jan said that her humour and modesty have always been with her, no matter how old she gets.
"She's just so unfazed by it all, anytime I spoke to her about the party or the letter from the Queen she would just say 'pfft' and shrug it off," Jan said.
Becky has five grandchildren, nine great-grandchildren and seven great-great-grandchildren.
Emily Newton is the Weekender's police and political reporter. Emily is also the Weekender's Senior Journalist.