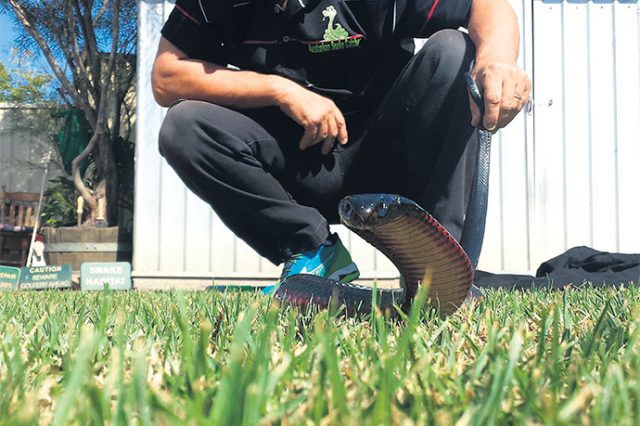 Werrington resident Ruth Meadows was stunned when she found an unwanted guest in her garage last Sunday.
Tucked inside seeking shelter from the heat was a large red-bellied black snake.
"We were going out for dinner and had to get the car out of the garage. My husband could hear a rustling noise and then came flying out saying something was in there," she said.
"It was right at his foot, and he was so surprised that it didn't bite him."
Within 15 minutes, Australian Snake Catchers, Freya and Sean Cade, had safely removed the unwanted guest from the garage.
Ms Cade said they frequently get calls about snakes found in areas people aren't expecting them, but often it's as simple as a small gap somewhere that allows them to enter residences.
"Every situation is different, there's a broad spectrum of things to look out for, whether it's garden maintenance or home safety," she said.
"We get a lot of calls finding them in the garage or in the laundry. Generally, when it's hot they look for anywhere they can go to retreat from the heat, or anywhere that provides shelter."
Ms Meadows was thankful for the swift work of the Australian Snake Catchers in not only catching the snake, but doing so with a smile.
"It's just not where you would expect it – in 16 years I've never seen a snake here," Ms Meadows said.
If you see a snake in your home or yard, Ms Cade said the most important thing is ensuring it's caught safely.
If you see a snake, call Freya on 0452 492 836 or Sean on 0410 761 575.
Emily Newton is the Weekender's police and political reporter. Emily is also the Weekender's Senior Journalist.