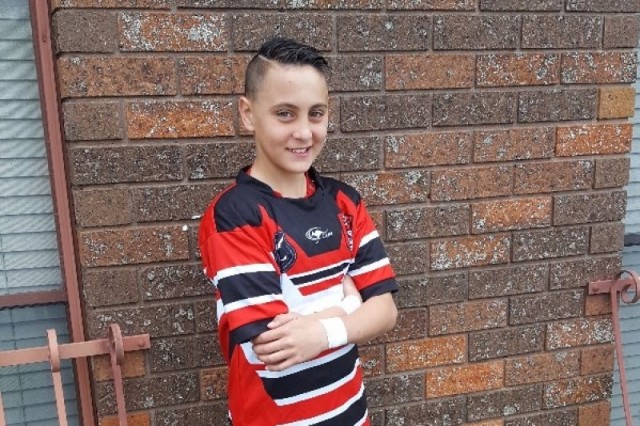 St Clair youngster Ziad Soltani will undergo life saving surgery next week to remove a fast growing brain tumour, with the community rallying behind him.
Over $165,000 has been raised by more than 1900 people for the 12-year-old and his family to help cover the astronomical costs of not only his surgery but the ongoing costs thereafter.
Ziad, who plays rugby league for the St Clair Comets, has his surgery scheduled for this Monday, November 14, with Dr Charlie Teo, who the family say is the only surgeon prepared to take on the risky operation.
While it's a benign tumour, Ziad was told just last week he would be paralysed within 12 months and dead within five years if the tumour wasn't taken out.
Family friend Krissy Stimpson, who met Trudy and Amin Soltani through football over five years ago, said she wanted to help in any way possible.
"I helped set up the GoFundMe account – it was really a team effort and I try to give as much as I can to them," she said.
"From the start, I believed people would help but the amount of people that have been so generous and have gone above their means is amazing."
Last Friday morning, KIIS FM's Kyle and Jackie O jumped on board to help the Soltani's.
Over $80,000 was raised after the segment aired, with the number still rising.
"I was crying when I heard how many people were willing to donate – it was just amazing," Ms Stimpson said.
While the family prepare for Ziad to undergo surgery, they have to pay over $50,000 for Dr Teo and over $50,000 for the hire of the hospital room.
The remaining money will be used to pay for Ziad's stay in the hospital post-operation and any ongoing medical costs.
If you would like to donate or find out more about Ziad, click here.