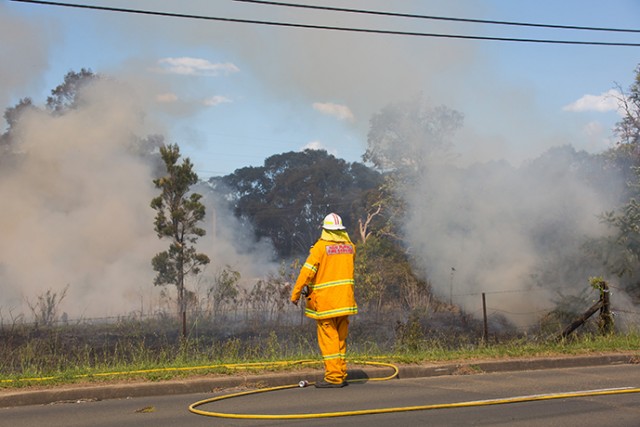 Fire crews are concerned their resources will be stretched this bush fire season after a number of fires were deliberately lit recently in the Penrith area.
Although summer is still a month away, the dangers of bush and grass fires have already been displayed with an allegedly deliberately lit grass fire on Roper Road in Colyton last Friday.
Fire crews worked for hours to get the three-hectare grass fire under control after it started as a small blaze at the back of a sporting field.
Station Commander at Regentville Fire Station, Mathew Fraser, said it can be frustrating when fires are deliberately lit.
"At this time of year we start to see an increase in grass and bush fires around the local area and many of these fires are unfortunately deliberately lit," he told the Weekender.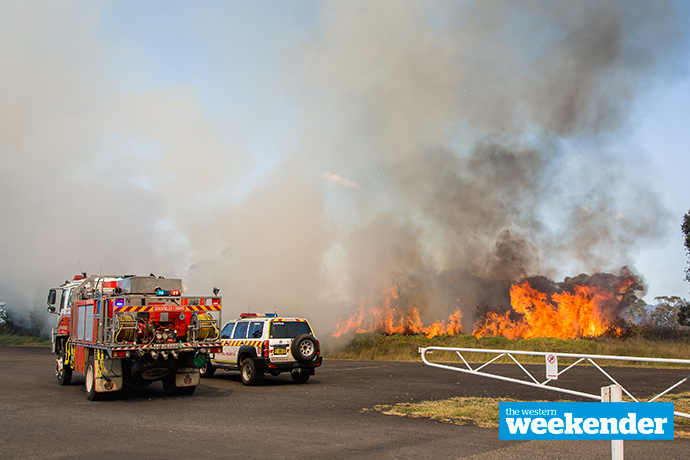 "This can be frustrating as it places the community at risk. We always do our best to preserve life and property but these deliberately lit fires can take hold quickly and require extensive resources to bring under control and extinguish."
Last week a teenager was charged with 'intentionally cause fire and be reckless as to its spread' following an investigation into a fire at Hickeys Lane in Penrith earlier this month.
"Deliberately lighting fires is obviously not something we want people to do and everything can and will be done to catch people that light fires – they will feel the full weight of the law and they will be punished," Mr Fraser said.
If locals are near a bush fire area there are a number of things they can do to help themselves and the community.
"Now is a good time for people that live near bushland or grassland areas to prepare their homes for the bush fire season by cleaning out gutters and removing any flammable materials from around their house," Mr Fraser said.
"Locals should check their hoses and pumps are in good working order and prepare their Bush Fire Survival Plan, and make sure everyone in the family know what to do in the case of fire."
A hot and busy summer is expected for fire crews throughout Penrith and the Blue Mountains.
For more information on how to prepare for bush fire season, visit www.myfireplan.com.au or www.fire.nsw.gov.au.