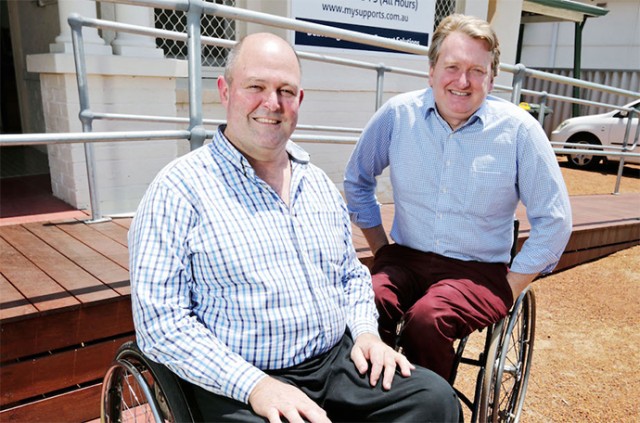 After becoming paralysed from separate freak motorcycle accidents, two West Australian men have turned their adversity into advocacy.
Terry Mader and Jim Cairns founded disability support service, My Supports, after riding quad bikes across Australia together to raise awareness for paraplegia.
Now, My Supports is one of the fastest growing disability support services, and has recently become available to the Penrith region through the National Disability Insurance Scheme (NDIS).
Mr Mader puts its success down to what sets them apart from other providers – having co-founders who live with disabilities.
"Because of who we are, the service experience is very different," he said.
"We know people with a disability and their families are looking for support provided by local people, with local connections, in a really flexible way."
Those locals provide services through small, in-community teams called Neighbourhood Teams, who work under four coordinators.
Of My Supports' 136 staff members, 20 per cent have lived with a disability, and a further 30 per cent have been family carers.
Mr Mader said the quotas keep people with a disability at the core of business.
"The NDIS will create thousands of new jobs, and we see no reason why a good portion can't be for people with a disability passing on their skills and experiences," he said.
"We are really excited to bring this innovative approach to the Nepean, Blue Mountains and Penrith."
Although there have been recent IT issues with the NDIS that has made it difficult for people to access their services, Mr Mader said things are beginning to smooth out.
"Due to the IT problems at the National Disability Insurance Agency, many are still waiting for their NDIS plans," he said.
"It looks like they have solved those issues, so we can get to work providing support around the Nepean, Blue Mountains and Penrith."
He said despite the hiccups, the NDIS has allowed people with a disability to have more control over their funding and the liberty to decide who they want as a provider.
My Supports can be contacted via email at [email protected] or phone 8580 4461.