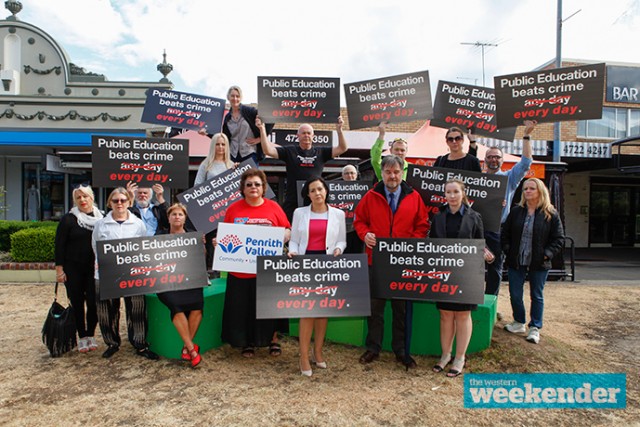 Three teachers at Emu Plains Correctional Facility are being sacked under new reforms by the State Government, prompting a rally outside Penrith MP Stuart Ayres' office on Monday.
The senior education officer and two teachers are three of 138 prison teachers across NSW losing their jobs.
They make up 87 per cent of the 158 current NSW prison teachers.
Four prisons – Lithgow, Wellington, Nowra and Kempsey – will be keeping their teachers, and rally organiser Rob Long, from the NSW Teachers Federation, wants to know why Emu Plains can't keep theirs.
"We want Stuart Ayres to stand up and say he wants to keep his teachers as well," he said.
Maurie Mulheron, NSW Teachers Federation President, said teaching adult prisoners is a specialist skill.
"These are people who have a lifetime of a lack of success, through poverty, family disfunction or mental health," he said.
At 42 per cent, Mr Mulheron admitted NSW has the worst recidivism rates in the country.
"About half of prisoners return within two years, but we do know that those quality education programs delivered by qualified teachers are the only thing that's proven to have an impact on reducing that," he said.
Londonderry MP Prue Car said the NSW Government has completely mismanaged corrections.
"There have been documented cases of escapees, we've got prisons overflowing, we are building pop-up prisons, and now we are getting rid of a program that's proven to decrease the possibility of people reoffending," she said.
Mr Ayres said from February next year, most education and training courses will be provided by qualified staff from external training organisations, much like Victoria and Queensland.