The Western Sydney Wanderers captured their first Powerchair Premiership when they defeated five-time champions, Newcastle, last weekend in Mount Druitt.
All level on 24 points apiece, Western Sydney and Newcastle clashed in the final round of the competition to determine the Football NSW Powerchair Premier League champion for 2016.
With no Finals series, a draw was all the Wanderers needed to claim their maiden trophy as they were slightly ahead on goal differential.
In what can be described as an exhausting encounter, the Wanderers led 1-0 at half-time before holding out a determined Jets outfit in the second half to win 2-0.
Speaking with the Weekender, Erskine Park resident and Wanderers utility player Alex Scollard said winning the Powerchair Premiership was a long time coming.
"It was amazing to be crowned premiers, it's taken us a long time," he said.
"I haven't played a game of football with so much passion from myself and my teammates.
"I'm proud to be a part of the club. I love the red and black."
The Wanderers Powerchair team comprises of six players which includes two wingers, a mid-fielder, goalkeeper and two reserves.
Scollard, who came off the interchange bench in the all-important decider, said he was desperate to make an impact on the game.
"I just badly wanted to get my hands on that trophy," the 20-year-old said.
"I wanted to make myself proud, my club proud and my family proud."
Just like at every Wanderers home game, the club's famous Red and Black Bloc (RBB) supporter base were out in force last Saturday at Kevin Betts Stadium.
Scollard, who has been a member of the Wanderers for four seasons, said the support his side received from the passionate crowd helped them get over the line.
"Being a Wanderer is amazing – the RBB always come up and talk to us because they love that we play for the club that they support. They don't care if we win, lose or draw," he said.
"The RBB really made a difference last weekend."
The Wanderers Powerchair team will now put their 'premiers' tag to the test when they battle against other clubs around the country for the A-League Club Championship in January.
The club is also expected to honour their Powerchair heroes at an upcoming home game this A-League season.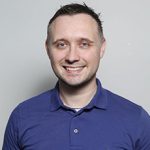 Nathan Taylor is the Weekender's Deputy Editor and Senior Sports Writer. He also compiles the weekly Chatter on the Box TV column. Nathan is an award-winning journalist, who has worked at the Weekender for nearly a decade.