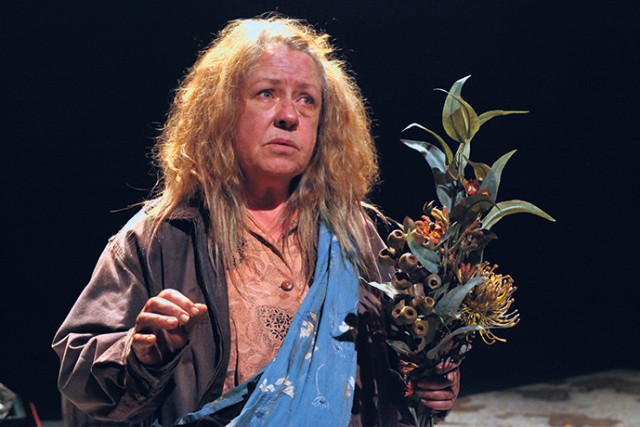 One of the great things about storytelling is that it allows us to form emotional connections with characters that we may never have had the chance to meet in our day to day lives.
For much loved Australian entertainer Noni Hazelhurst, this is what attracted her to take on the role of an ageing, homeless woman – the loan character in the upcoming play 'Mother', which opens at The Joan in October.
"I feel one of the functions of the arts is to promote empathy and to emphasise that we as human beings share more similarities than differences," Noni said.
"I think more than ever we are living in very divisive times and very judgmental times. I guess I leapt at the chance to bring this character to life because if I can get one person to rethink their attitude or to give their time to people who need it then to me that's wonderful."
The one woman show about Christine – a woman who has lived a colourful yet troubled life – was written specifically for Noni, who worked with the play's director Matt Scholten at the Melbourne Theatre Company in 2013.
After Noni finished up with the TV show 'A Place To Call Home' she was looking to take on a new acting challenge. During a discussion with Scholten she came up with the idea of creating a one woman show.
The pair joined forces with playwright Daniel Keene – known for his tendency to produce works that push the envelope – and decided to focus the production around the themes of judgement and empathy.
10 days later Daniel had produced a script.
"It was just this most beautiful piece of work that I'm really privileged to have been given," Noni said.
According to Noni the reaction from audiences has proved that opening the door to worlds we ourselves haven't experienced is often all the encouragement we need to take positive action.
"We've had people who've said I'm going straight home to make a donation to the local homeless shelter," she said.
"It just brings me great joy to think that we're increasing empathy in the world; that's got to be a good thing."
'Mother' will be on at The Joan on Friday, October 7 at 8pm and Saturday, October 8 at 2pm and 8pm. Tickets are $50-$55. For more information, call 4723 7600.