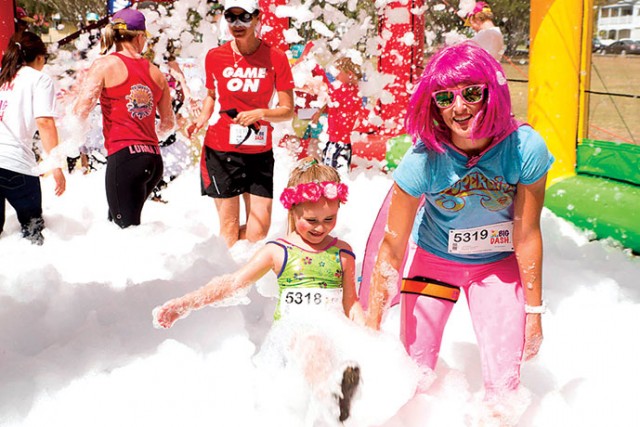 Little Big Dash is returning to Penrith this month, offering an exhilarating obstacle adventure which puts the fun into physical activity for more than 20,000 kids and their parents.
We're giving away five entries for teams of two to the Little Big Dash event! Check out the bottom of this story for details.
Sponsored by Sanitarium, family teams from two to six will tackle 3km of wild and wacky obstacles to reach the finish line, forming part of the breakfast company's long-standing mission to help Australian families improve their health and wellbeing.
For the first time the event will run in three cities across Australia, with Little Big Dash arriving in Penrith at the Sydney International Regatta Centre on Sunday, August 21.
"We're thrilled to bring back the Little Big Dash from Sanitarium for another year and expand the event to reach more families than ever before," Sanitarium General Manager, Todd Saunders said.
"In an age where the addictive allure of screen time sees Australians living an increasing sedentary lifestyle, our aim is to get kids and adults on their feet and bring family and fitness together in the most enjoyable way possible."
Little Big Dash features unmissable activities and obstacles, which have been designed for kids aged from five to 15 and for adults looking to get in touch with their inner child.
With 10 thrilling obstacles to challenge participants, kids and parents can bounce through the Rumble Tumble Tower, twist through the Tangle Tunnel and test their balance on the Bupa Balance Beam.
This year will see the big reveal of a mystery new challenge, which will provide a dynamic new experience for the teams taking part. There will also be prizes for those with the best matching team outfits.
Last year's Little Big Dash in Penrith was so popular with locals that it sold out weeks before the event kicked off.
Don't miss your chance to be involved this year with earlybird discounts now available.
For more information on Little Big Dash and to register a team, visit www.littlebigdash.com.au.
The Western Weekender has five entries into Little Big Dash (each entry is for two people) to give away. For your chance to win one, fill in the form below! Entries close Monday, August 15 at 10am. Authorised under NSW Permit Number LTPM/16/00054.