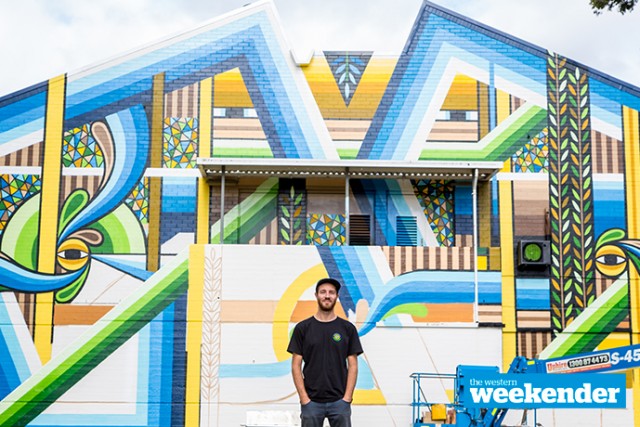 By plucking the colours of Nepean Creative and Performing Arts High School's surrounds, Bali-based contemporary muralist Brad Eastman, aka Beastman, has created a building-sized masterpiece.
Using a palette of blues, greens, browns and vibrant yellows, students now and into the future can marvel at the internationally renowned artist's work on the grounds of their own school.
It took 'Beastman' over 60 hours to complete the mural, while hundreds of pairs of beady eyes watched him.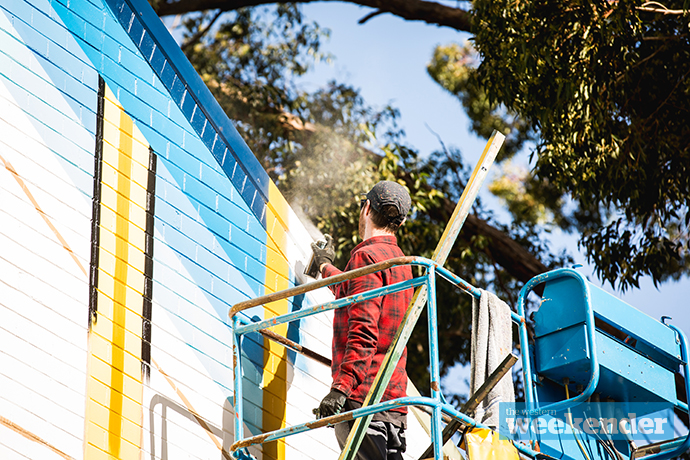 "The scale of it instantly draws people in, especially the kids," he said.
"They just want to know how the hell I'm doing it, so they just stare at me for ages while they're trying to work it out."
He said having students watch him was a great way for them to realise the hard work and patience that goes into creating the scale and quality of his artworks.
"Not many people can witness for a long period of time a large mural being painted, usually they see a finished product, but don't see the whole process," he said.
'Beastman' used aerosol paint for the work to show students the benefits of working with the medium, and create a positive image for it within the school.
"I like doing the aerosol murals at schools because there's a lot of stigma associated with spray paint," he said.